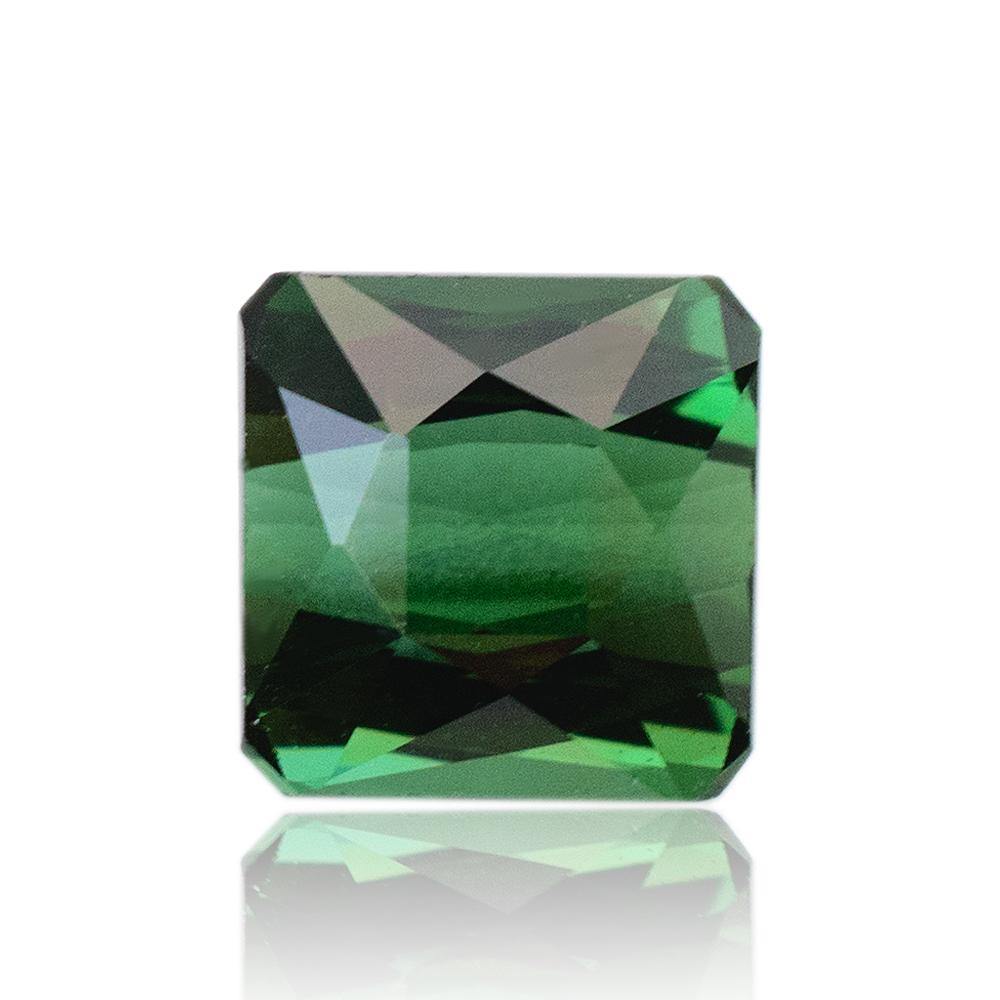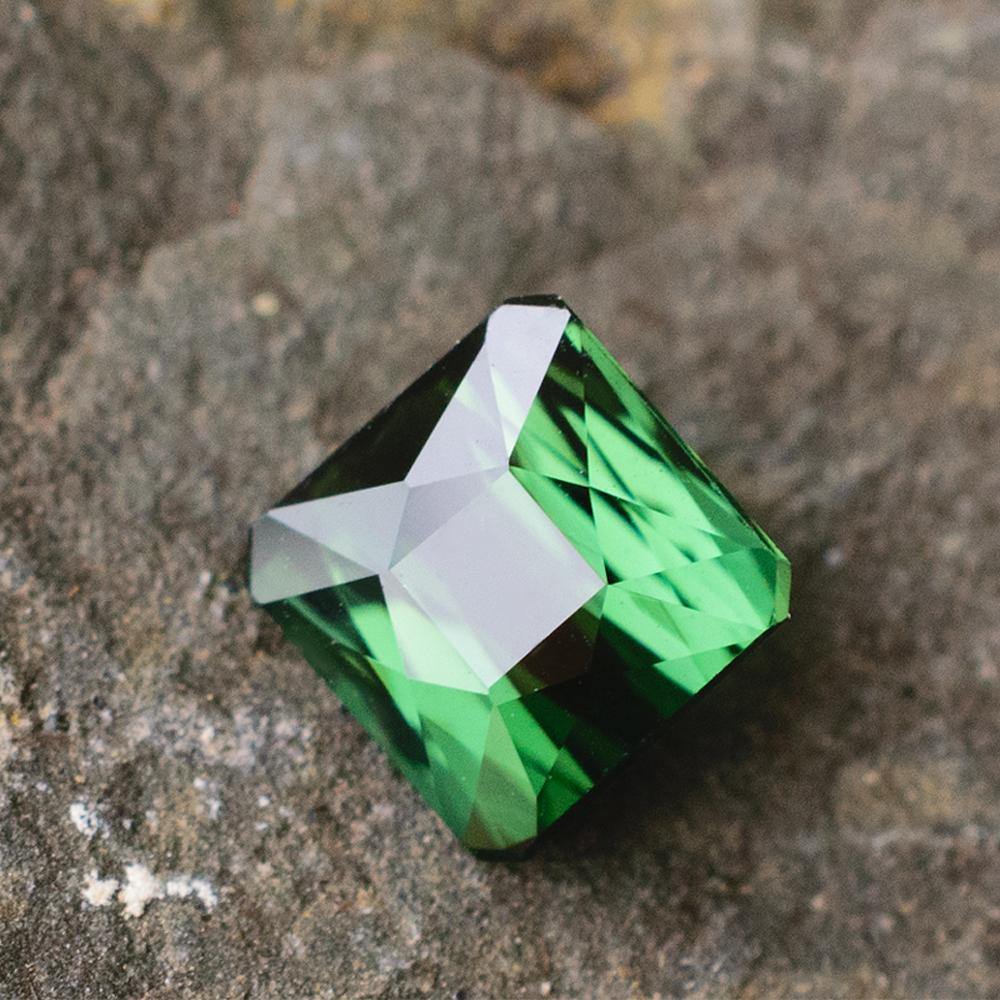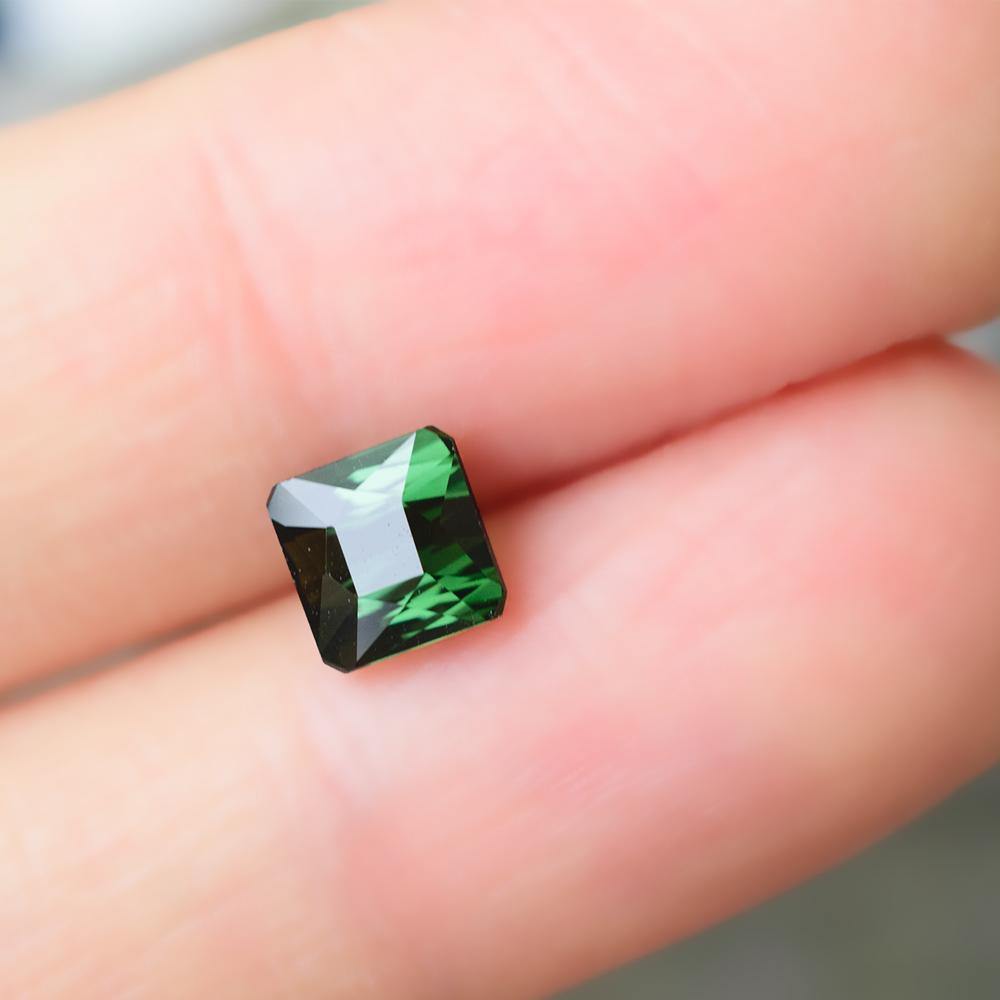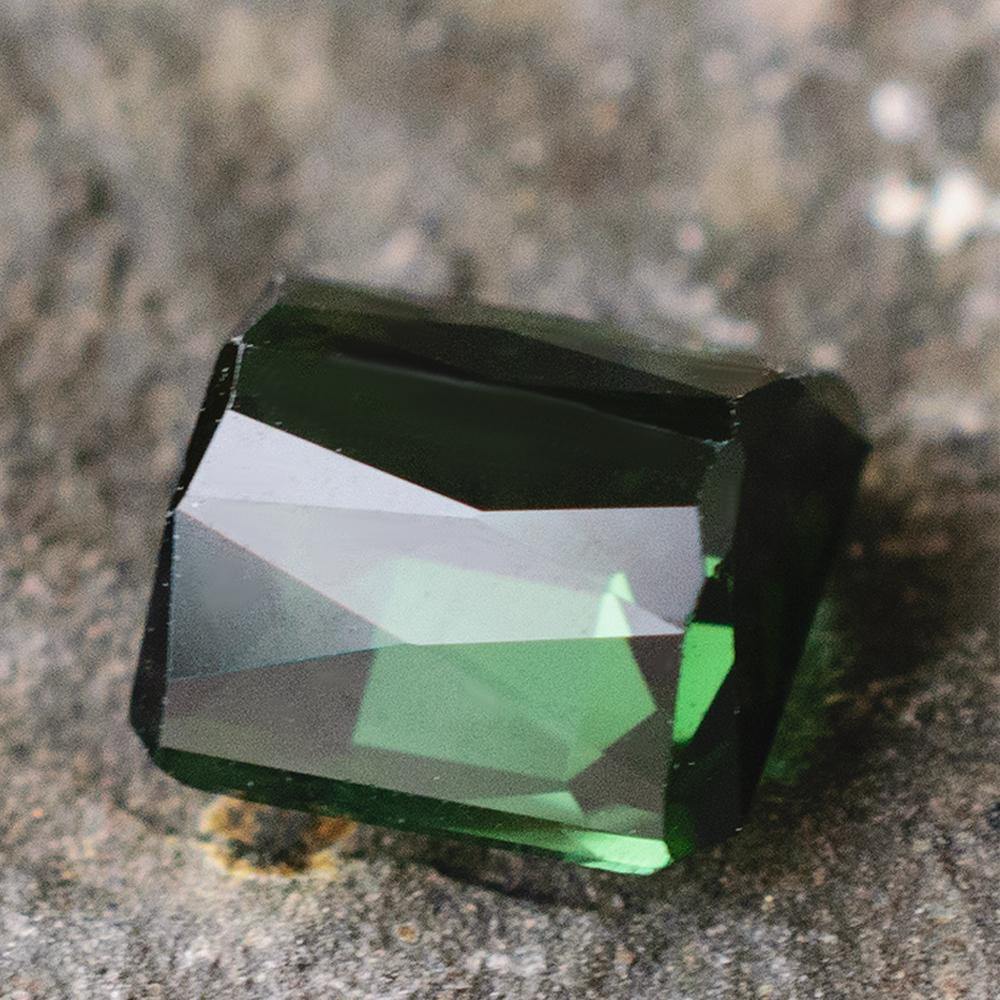 1.22 Carats Green Natural Tourmaline Gemstone | 5.8mm x 5.8mm
Estimated Shipping Widget will be displayed here! (with custom color)
Tourmaline is a name obtained from the Sinhalese word "toramalli", which means 'stone with mixed colors', due to it mostly having multiple colors in one crystal. Tourmaline is the newer October birthstone. Indeed, very few gems do match the Tourmaline's dazzling array of colors. Maybe this is why ancient mystics believed this October birthstone to inspire artistic expression. It has a color pattern for every mood. Popular colors like the pink and red rubellites, the emerald green "Chrome" tourmalines, and the neon green and blue-to-violet extremely rare Paraiba Tourmalines. 

Here is a fascinating green Natural Tourmaline Gemstone in the finest of colors. This gemstone weighs just over a carat (1.22 carats) and dimensions 5.8mm in length and width. This October birthstone has been cut and well polished to the highest lapidary standard. A perfectly sized Tourmaline gemstone will surely design a sensation Tourmaline engagement ring(best when set over a halo of sparkling diamonds).

Why Tourmaline though?
• Comes in an infinite amount of colors.
• Perfect for everyday wear
• October Birthstone
• Perfect stone to celebrate your 8th anniversary

| | |
| --- | --- |
| Gemstone Stone Type: | Natural Tourmaline |
| Gemstone Color: | Green |
| Gemstone Weight: | 1.22 carats |
| Gemstone Dimension: | 5.8mm x 5.8mm |
| | Emerald Cut |
| | VS (Eye Clean) |
| | None |
| | 1 |
| | TOU153 |
| | |
Tourmaline was always mistaken for other gemstones due to its vast range of colours. One of the 'Rubies" in the Russian Crown jewels, the "Caesar's Ruby" pendant, is a Red (Rubellite ) Tourmaline.
It is believed that different colours of tourmalines were thought to have distinct healing properties. Pink Tourmalines were associated with compassion and gentleness; green tourmalines were also believed to promote courage, stamina, and strength. Black tourmalines were also believed to protect the wearer and give them self-confidence. Natural Tourmalines were the perfect gemstone given to celebrate the eighth wedding anniversary.
Natural Tourmalines come in a variety of colours, and some specific colours are genuinely precious and rare. 4
• The Neon Blue Coloured variety of Tourmaline, known as the Rare Paraiba Tourmaline, sits in a class of its own, commanding a premium price per carat depending on the gem quality.
• Rubellite Tourmaline is the name given to the pinkish, reddish, purplish red, orangy red or even brownish-red variety of Tourmaline. However, a handful in the trade believes Pinkish Tourmalines shouldn't be acknowledged as Rubellite Tourmalines.
• The dark violetish blue, blue or even greenish-blue Tourmaline is termed as the Indicolite Tourmaline.
• Intense Green Tourmalines, caused mainly by the Vanadium (the same element colours found in African and Brazilian Emeralds ), are termed Chrome Tourmalines.
• Part-Coloured Tourmalines displays an intriguing display of more than a single colour, mostly a common combination of green, yellow and even pink, but many other colours are possible. These are mostly termed as Bi-Coloured Tourmalines.
• The final and most typical variety is the Watermelon Tourmaline. As the name implies, mimics the colour pattern seen in watermelons, pink the in centre and green on the outside. This variety of Tourmalines are most cut in a specific cut to display their special arrangement of colour pattern.
Natural Tourmaline, the second October birthstone, is mainly found in Brazil, Afghanistan, Pakistan, Kenya, Madagascar and Mozambique ( among numerous African countries)
On the Mohs scale, Tourmalines rank 7.7.5 on hardness, meaning they are suitable for everyday wear. Natural Tourmalines are stable to withstand light and other chemicals, but high temperatures(heat) can damage the stone. Tourmalines are best cleaned with warm soapy water and a soft brush. It is not recommended to use an ultrasonic and steam cleaner in cleaning your October birthstone jewellery(Tourmaline).
TOURMALINE FACTS:
• Mineral: Tourmaline
• Colour: All Colours
• Refractive Index: 1.624 to 1.644
• Specific gravity: 3.06
• Moh hardness: 7 - 7.5
BIRTHSTONE & ANNIVERSARIES:
Tourmaline is the birthstone for October borns.
The October birthstone is also the gemstone for the 8th anniversary.
• Kindly note that you must select your gemstone/diamond by millimetre dimension rather than carat weight. This is because a gem may vary in size and weight; hence, purchasing based only on carat weight might not be very accurate if you set this stone on your own. If the dimensions of a gem aren't stated in the product specification, please don't hesitate to reach an expert by hitting the chat button or contacting us via mail.
• Modern Gem Jewelry® specializes in made to order fine and high jewellery. If you want to design a piece with this gemstone, kindly reach our experts through chat or email (sales@moderngemjewelry.com).
• Most gemstones on our site do come with a Modern Gem Jewelry® certificate of authenticity. If you need a third-party lab report, please don't hesitate to reach our experts for an additional fee.
• Our website only has about 40% of our loose gemstones inventory. If you do have a specific request about a stone type, colour and shape. Please don't hesitate to consult our online experts for assistance.
THE PROCESS
Your Bespoke Journey - Crafting Perfection
Your journey with us goes beyond buying jewelry; it's about co-creating an extraordinary piece that reflects your style. Trust us to make this journey exceptional.
Expert Gemstone Selection
Our in-house artisan will present you with the top three gemstone options for your piece. The Choice is Yours.
Personalized Simulations
Receive a detailed simulation of your dream piece and make all the adjustments till it's perfect!
Artisan Craftsmanship
Our experts bring your design to life with the finest techniques. Handcrafting your piece, ensuring it's made to last.
Elegant Packaging
Your piece is carefully packaged for your moments. Insured and shipped to you wherever you are in the world.
LUXURY PACKAGING
Perfect For Every Moment
At Saratti, our dedication extends from your first click to the moment you unwrap your treasure. Handcrafted individually, reasonably priced, and designed for enduring wear.

Every parcel bears our hallmark SARATTI packaging. Our engagement rings are held in a deluxe ring box, enclosed in an exquisite case - the perfect accompaniment for your cherished proposal or momentous occasion. This case also keeps your GIA/IGI diamond and gemstone grading reports safe.

Unmounted gemstones discover their abode within a flawless diamond/gemstone case, guaranteeing their safety and timeless beauty.