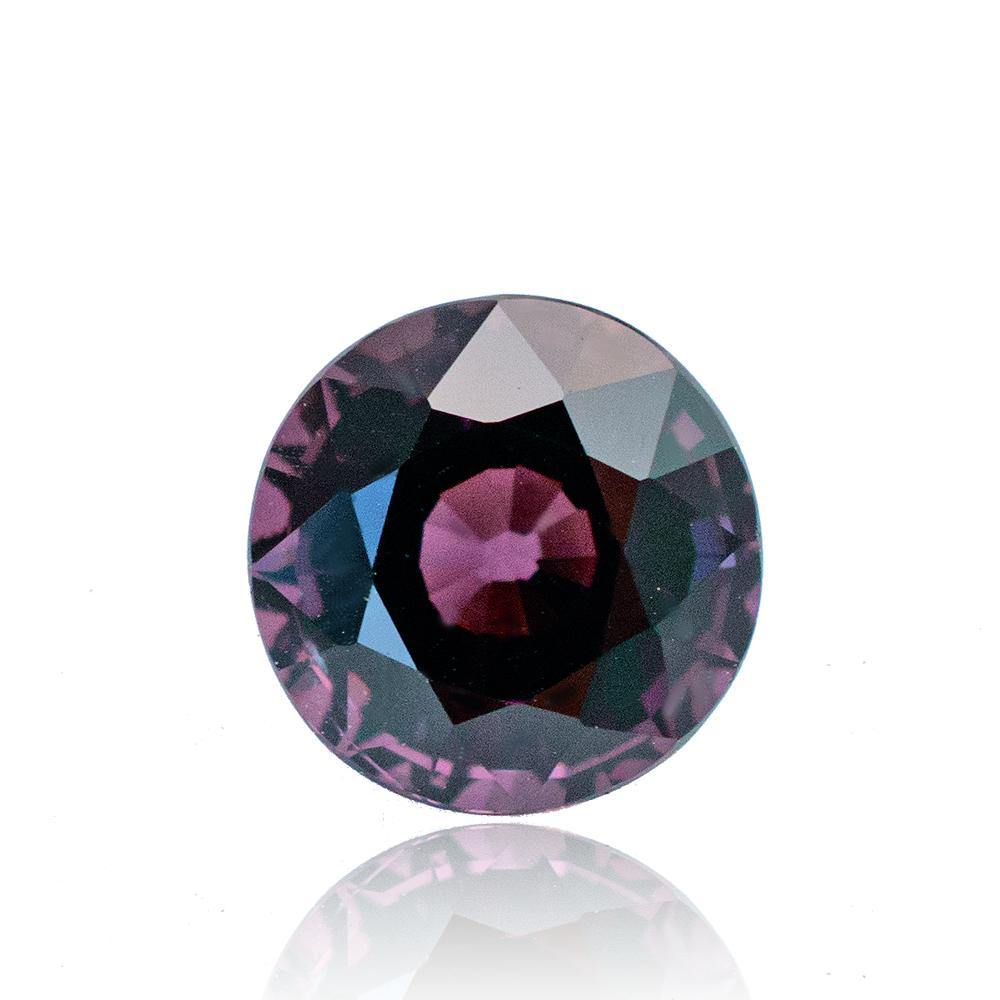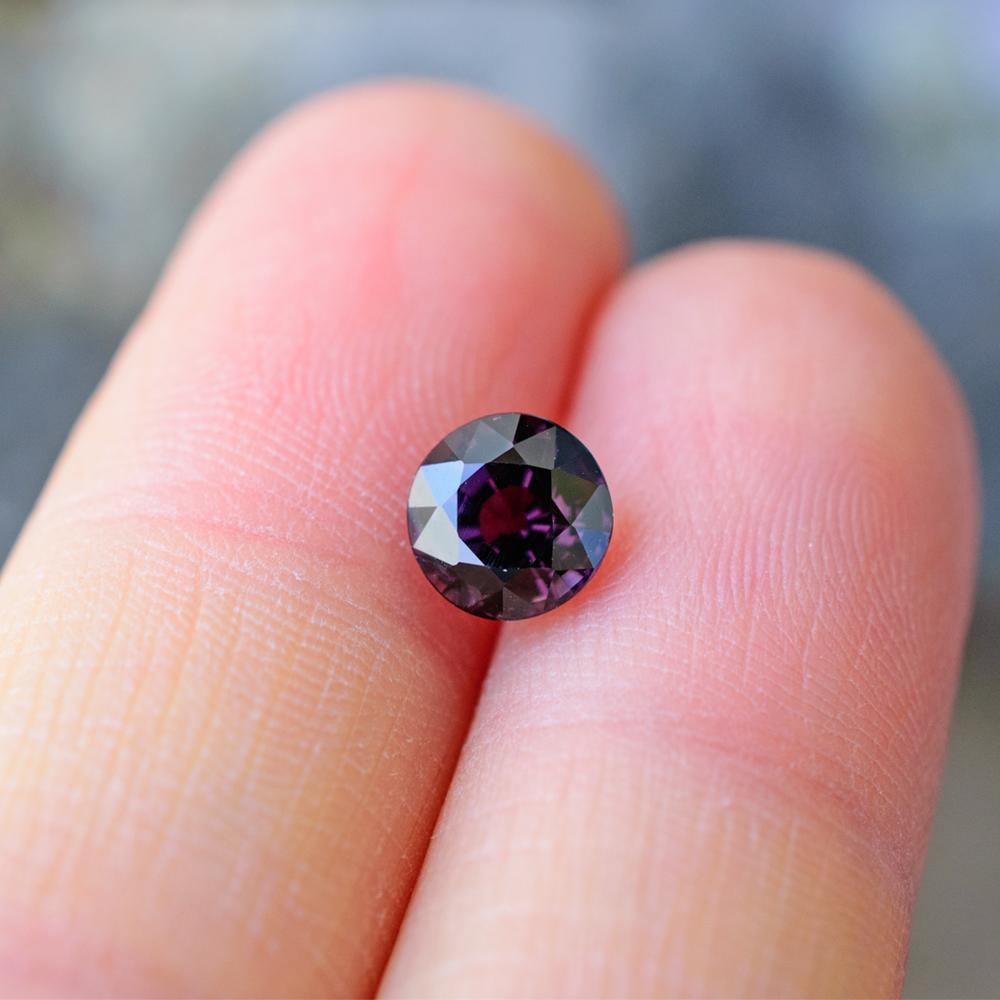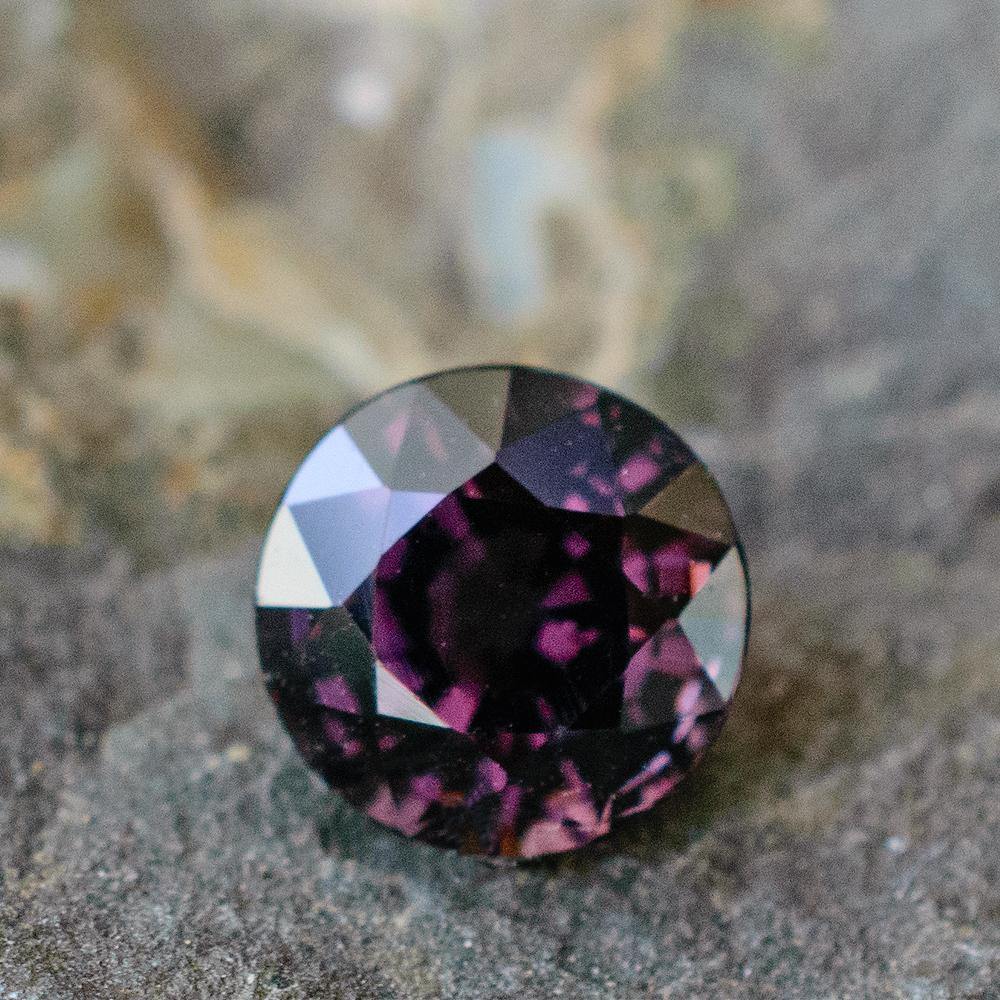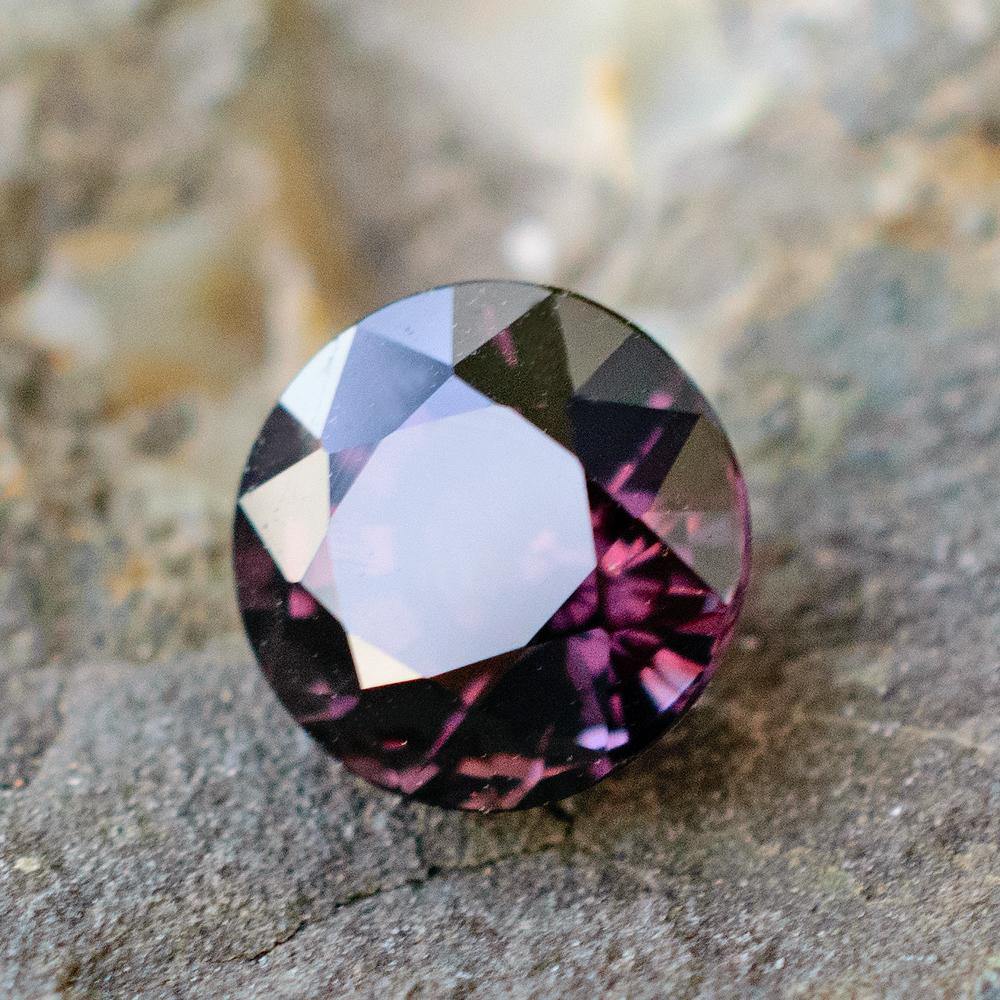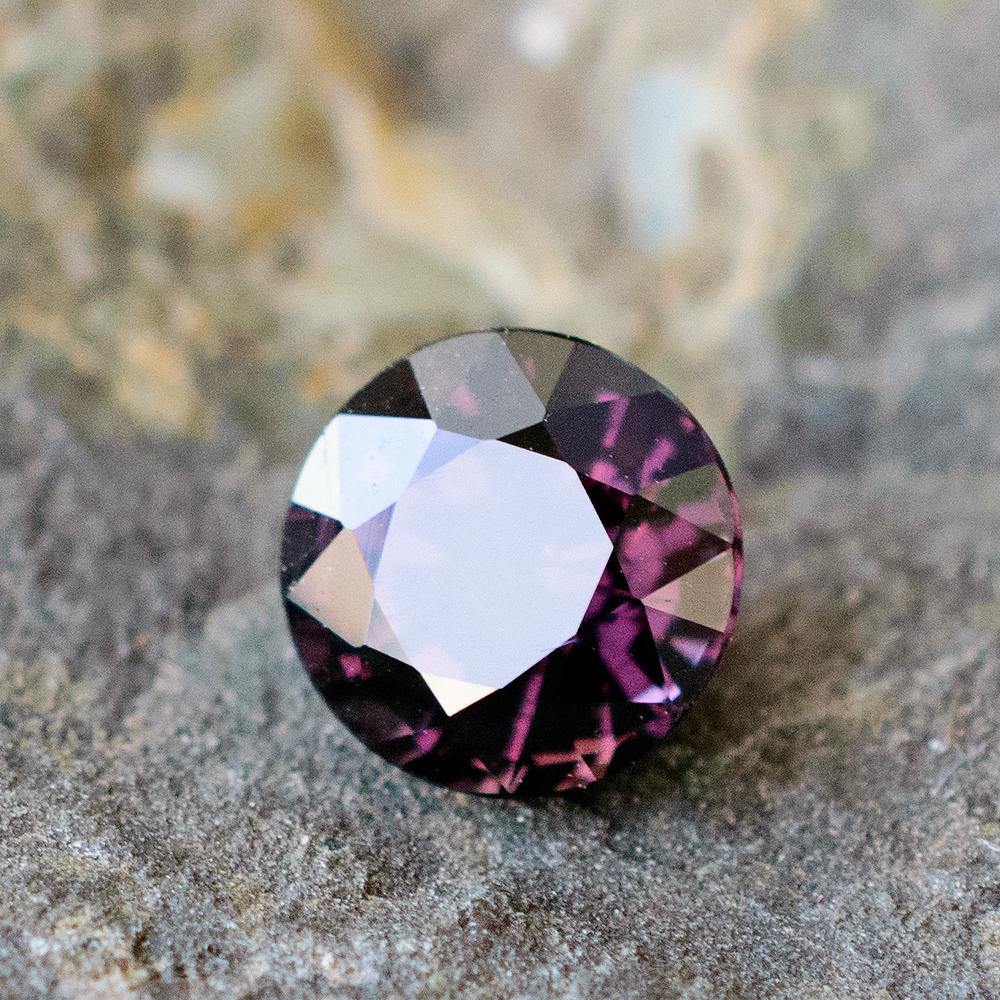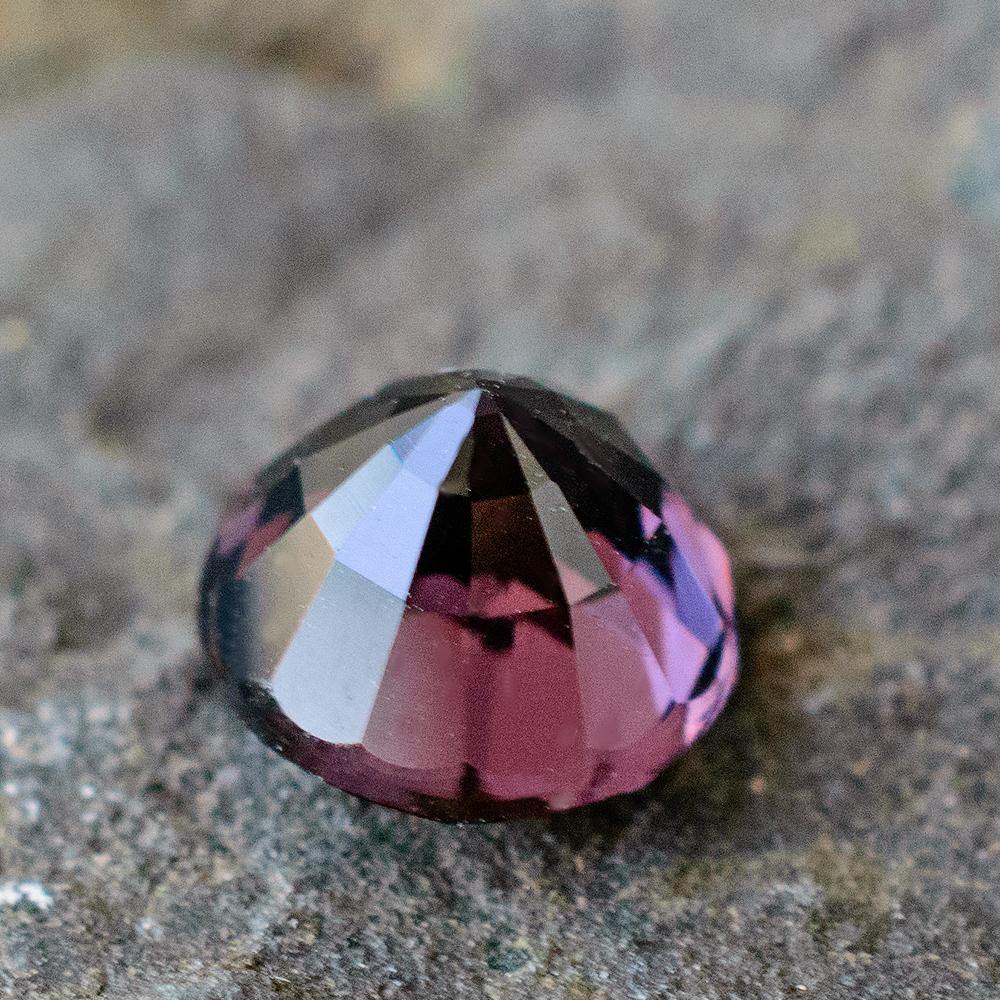 1.35 Carats Bluish Purple Round Natural Spinel
Estimated Shipping Widget will be displayed here! (with custom color)
Natural Spinel is in high demand among gemstone connoisseurs due to its striking luster, color, and beauty. Like natural diamonds and garnets, spinels are singly refractive, having the same properties in all crystal directions. 
Brilliant and Round with a pop of color! A mesmerizing Purplish Pink in round Natural Spinel perfectly cut and polished to the highest lapidary standard. This Spinel gemstone weighs just over a carat (1.35 carats), has a dimension of 6.25 mm, and is clean to the unaided eye—a perfect spinel gemstone waiting to be set in fine jewelry. 

Are you considering designing a unique August Birthstone jewelry for yourself or her? Look no further. 
Why Spinel? 

• Birthstone Gemstone: August Birthstone
• Impeccable Color
• Amazing Chromium
Please inquire about availability before checkout.
| | |
| --- | --- |
| Gemstone Stone Type: | Natural Spinel |
| Gemstone Color: | Bluish Purple |
| Gemstone Weight: | 1.35 carats |
| Gemstone Dimension | 6.25 mm x 6.25mm x 4.68mm |
| Gemstone Cut: | Round |
| Gemstone Clarity: | VS |
| Gemstone Treatment: | None |
| Number of Stones: | 1 |
| Modern Gem Item#: | SPL519 |
| Certificate | MGJ |
NATURAL SPINEL
Spinel came from the Green word "spark'. Many scholars have also believed the name came from the Latin word "Spinella, " which translates as thorn or spine in modern English, referring to the sharp points of its crystals.
Natural Spinel comes in a host of hues, from the famous red to vibrant pink, intense orange, and all shades of blue and purple to even leaving out violet through to the mouthwatering bluish green. Vivid reds and pinks are caused by the presence of Chromium in the mineral—the more chromium presence in the mineral, the more vibrant the red hue.
Natural Spinels can be found in Afghanistan, Burma(Myanmar), Cambodia, Brazil, Russia, Kenya, Sri Lanka, Tanzania, Vietnam and Thailand. Natural Spinels are very durable gemstones with an impressive hardness of 80 on the Mohs Hardness Scale and can be cut in many shapes and sizes.
SPINEL FACTS:
• Mineral: Spinel
• Colour: Red, Orange, Pink, Purple, Blue, Black
• Refractive Index: 1.718
• Specific gravity: 3.60
• Moh hardness: 8
BIRTHSTONE & ANNIVERSARIES:
Spinels are part of the recently added gemstones to the birthstone chart. Spinel is the birthstone for all August Borns, sharing the month with the lush green Peridot and Sardonyx. This remarkable gemstone has long been mistaken for Ruby by ancient emperors and monarchs. It is known that many rubies in ancient history were spinels.
• Kindly note that you must select your gemstone/diamond by millimetre dimension rather than carat weight. This is because a gem may vary in size and weight; hence, purchasing based only on carat weight might not be very accurate if you set this stone on your own. If the dimensions of a gem aren't stated in the product specification, please don't hesitate to reach an expert by hitting the chat button or contacting us via mail.
• Modern Gem Jewelry® specializes in made to order fine and high jewellery. If you want to design a piece with this gemstone, kindly reach our experts through chat or email (sales@moderngemjewelry.com).
• Most gemstones on our site do come with a Modern Gem Jewelry® certificate of authenticity. If you need a third-party lab report, please don't hesitate to reach our experts for an additional fee.
• Our website only has about 40% of our loose gemstones inventory. If you do have a specific request about a stone type, colour and shape. Please don't hesitate to consult our online experts for assistance.
THE PROCESS
Your Bespoke Journey - Crafting Perfection
Your journey with us goes beyond buying jewelry; it's about co-creating an extraordinary piece that reflects your style. Trust us to make this journey exceptional.
Expert Gemstone Selection
Our in-house artisan will present you with the top three gemstone options for your piece. The Choice is Yours.
Personalized Simulations
Receive a detailed simulation of your dream piece and make all the adjustments till it's perfect!
Artisan Craftsmanship
Our experts bring your design to life with the finest techniques. Handcrafting your piece, ensuring it's made to last.
Elegant Packaging
Your piece is carefully packaged for your moments. Insured and shipped to you wherever you are in the world.
LUXURY PACKAGING
Perfect For Every Moment
At Saratti, our dedication extends from your first click to the moment you unwrap your treasure. Handcrafted individually, reasonably priced, and designed for enduring wear.

Every parcel bears our hallmark SARATTI packaging. Our engagement rings are held in a deluxe ring box, enclosed in an exquisite case - the perfect accompaniment for your cherished proposal or momentous occasion. This case also keeps your GIA/IGI diamond and gemstone grading reports safe.

Unmounted gemstones discover their abode within a flawless diamond/gemstone case, guaranteeing their safety and timeless beauty.