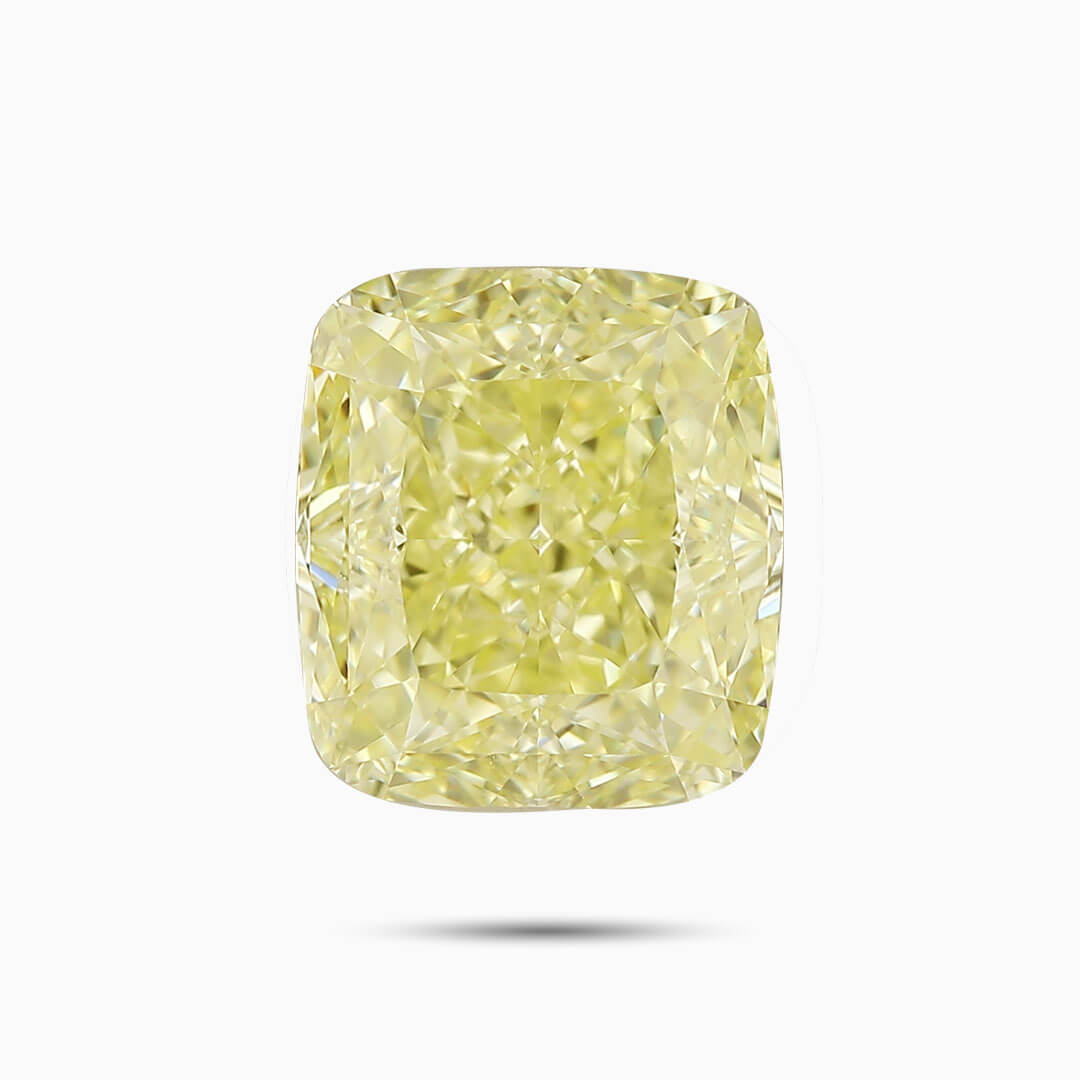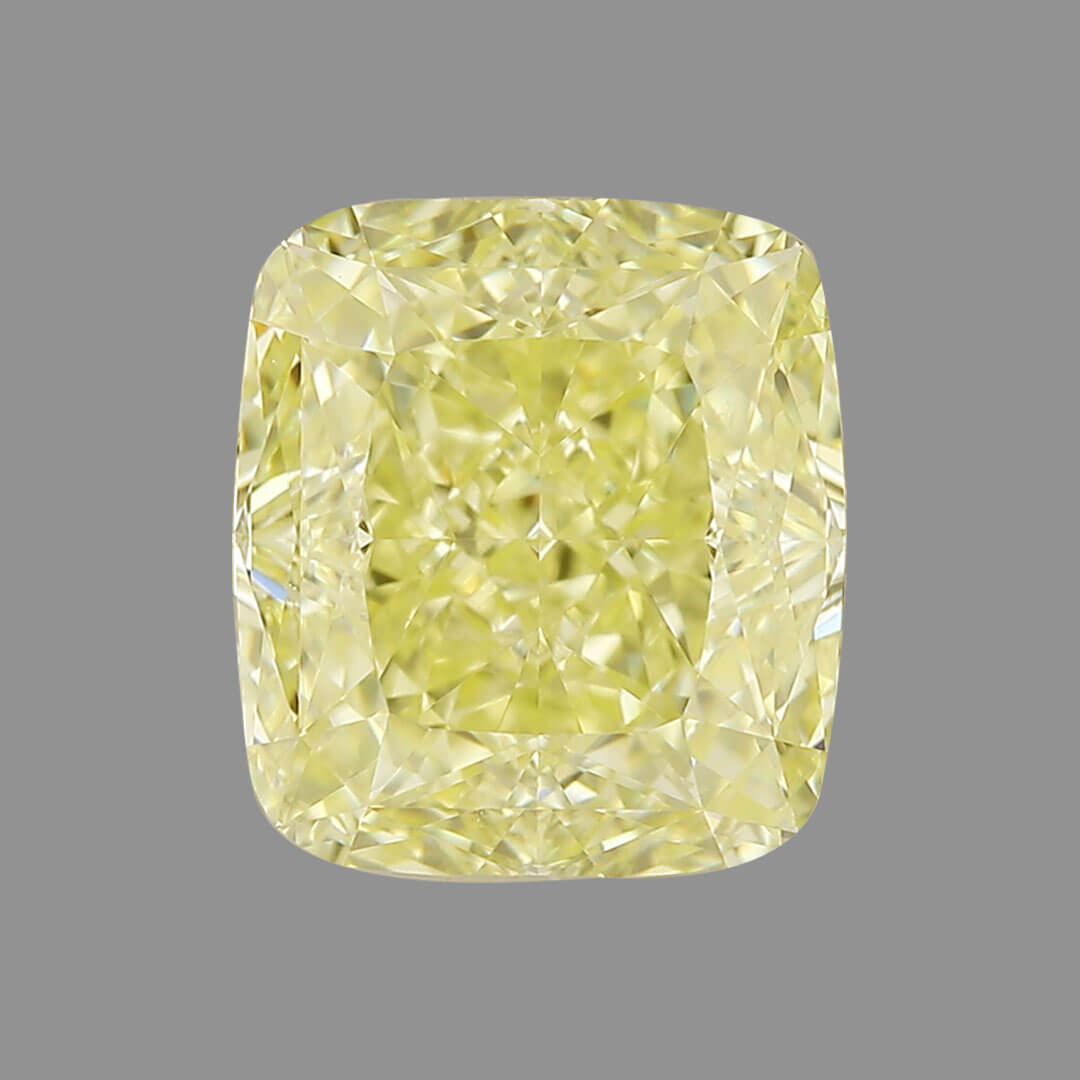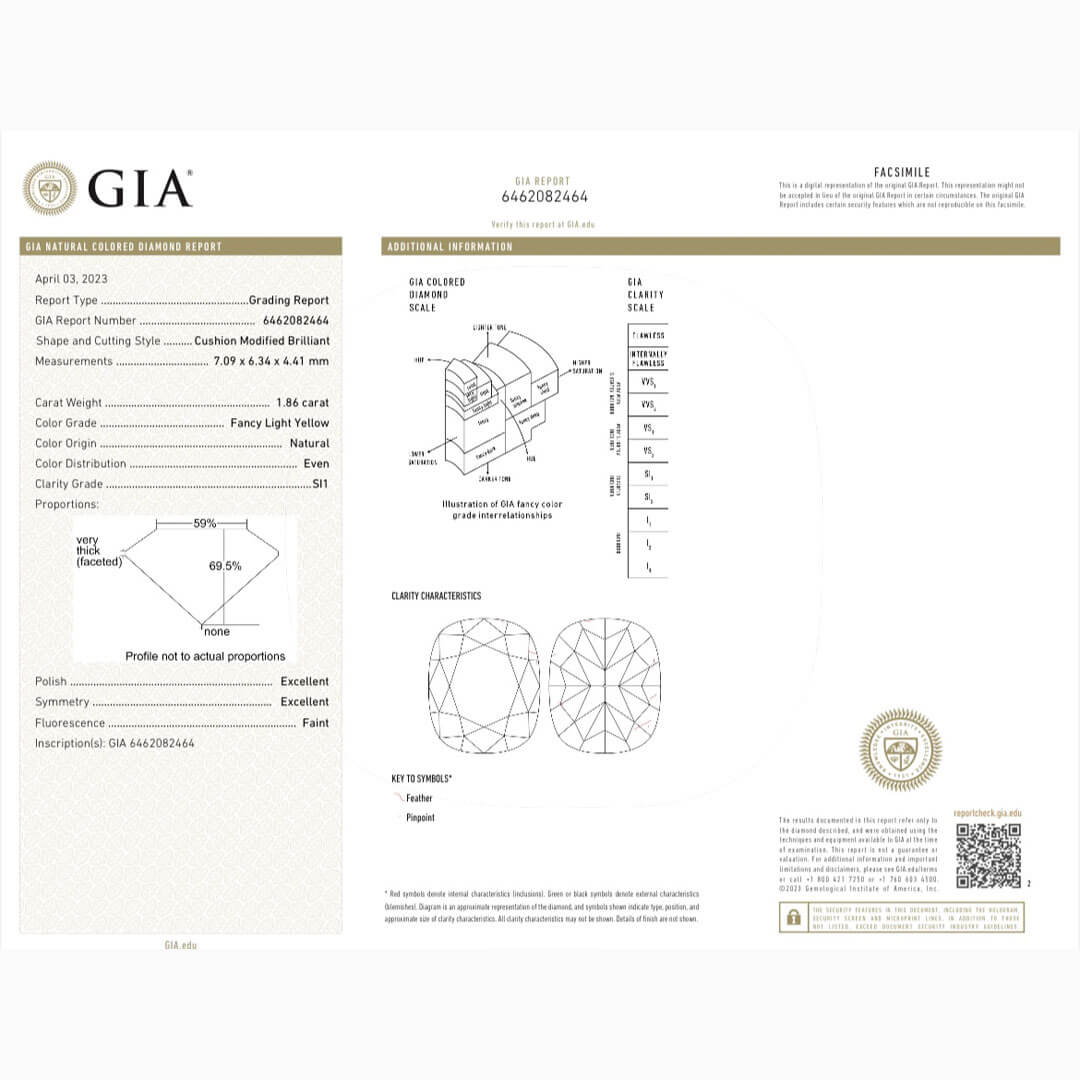 1.86 carats Fancy Light Yellow Natural Diamond | GIA Certified
Estimated Shipping Widget will be displayed here! (with custom color)
This 1.86 carats Fancy Light Yellow Natural Diamond is a stunning statement piece that will captivate all. GIA certified with SI1 clarity, it glitters and shines in a unique hue that will light up your collection. Create a brilliant story with this special diamond.
Please inquire about availability before checkout.

| | |
| --- | --- |
| Gemstone Type | Natural Diamonds |
| Gem Color | Yellow |
| Shape | Cushion |
| Clarity | SI1 |
| Dimension | 7.09mm x 6.34mm x 4.41mm |
| Certificate | GIA |
Customize this piece in your preferred gemstone type:
Center Stones Available: Natural Diamond, Ruby, Sapphire, Emerald, Moissanite, Opal, and more.

Center Stone Shapes: Oval, Round, Emerald, Radiant, Cushion, Pear, Princess and more.

Metal Types: 18K Gold, 14K Gold, Platinum PT-950.
Every MODERN GEM JEWELRY® piece is made-to-order. The estimated arrival date is calculated based on the production time of your item; a reference timeline is displayed on the product page or checkout page. An adult's signature is required at delivery time for added security.
*For rushed orders, please get in touch with customer care.
FANCY COLORED DIAMONDS
Rare • Precious • Captivating
Diamonds have been mined and worn in India since the 4th century BC, and were used as a decorative gemstone well before contact with Western cultures. The world's first diamond color-grading system dates back to sixth-century India, but this system was not responsible for the creation of colored diamonds.
The color of a diamond was closely associated with the caste system, and only certain persons in the social hierarchy could own a certain type of colored diamond. This formed an important part of ancient India's class structure and caste system. Rulers, priests, and people of high status in the system were allowed to own diamonds that weren't colorless. Warriors and Land Lords were allowed to wear "Brown Diamonds that resembled the color of the eye of the hare," and merchants were granted permission only to own Yellow Diamonds. Members of the lower levels of society were assigned black or gray diamonds. Kings, however, were free to choose diamonds of any color.
Colorless natural diamonds are classified on the scale from D - Z. At the end of this range is where colored natural diamonds fall (i.e., X-Y-Z range). In this range of colors, diamonds begin to show traces of yellowish or brownish tones. This is the start of the Fancy Yellow Diamond and Fancy Brown diamond scale" is true according to sources.
The diamond color scale ranges from D to Z, with D being absolutely colorless, and Z being light yellow or brown. Diamonds with a color grade from D to F are considered colorless, while diamonds with a color grade from G to J are considered near colorless.
Beyond the J grade, diamonds begin to show traces of yellowish or brownish tones, and this is where colored natural diamonds fall. These diamonds are called fancy colored diamonds, and they come in various colors, such as red (rarest), yellow, brown, blue, green, pink, and more.
The start of the fancy yellow diamond and fancy brown diamond scale is at the end of the colorless range (i.e., X-Y-Z range).
Any diamond with a strong presence of color is known as a Fancy Colored Diamond. Fancy Colored Natural Diamonds are much rarer than their white counterparts and highly sought after for their impeccably rich, beautiful, and sensation colors. They fetch a premium price per carat weight due to high-profile auctions, another factor in their immense awareness and cost.
Diamond FACTS:
Mineral: Carbon

Refractive Index: 2.417 to 2.419

Specific gravity: 3.50 to 3.53

Mohs hardness: 10
Diamond is the birthstone for April and also the gemstone for 60th wedding anniversaries.
THE PROCESS
Your Bespoke Journey - Crafting Perfection
Your journey with us goes beyond buying jewelry; it's about co-creating an extraordinary piece that reflects your style. Trust us to make this journey exceptional.
Expert Gemstone Selection
Our in-house artisan will present you with the top three gemstone options for your piece. The Choice is Yours.
Personalized Simulations
Receive a detailed simulation of your dream piece and make all the adjustments till it's perfect!
Artisan Craftsmanship
Our experts bring your design to life with the finest techniques. Handcrafting your piece, ensuring it's made to last.
Elegant Packaging
Your piece is carefully packaged for your moments. Insured and shipped to you wherever you are in the world.
LUXURY PACKAGING
Perfect For Every Moment
At Saratti, our dedication extends from your first click to the moment you unwrap your treasure. Handcrafted individually, reasonably priced, and designed for enduring wear.

Every parcel bears our hallmark SARATTI packaging. Our engagement rings are held in a deluxe ring box, enclosed in an exquisite case - the perfect accompaniment for your cherished proposal or momentous occasion. This case also keeps your GIA/IGI diamond and gemstone grading reports safe.

Unmounted gemstones discover their abode within a flawless diamond/gemstone case, guaranteeing their safety and timeless beauty.