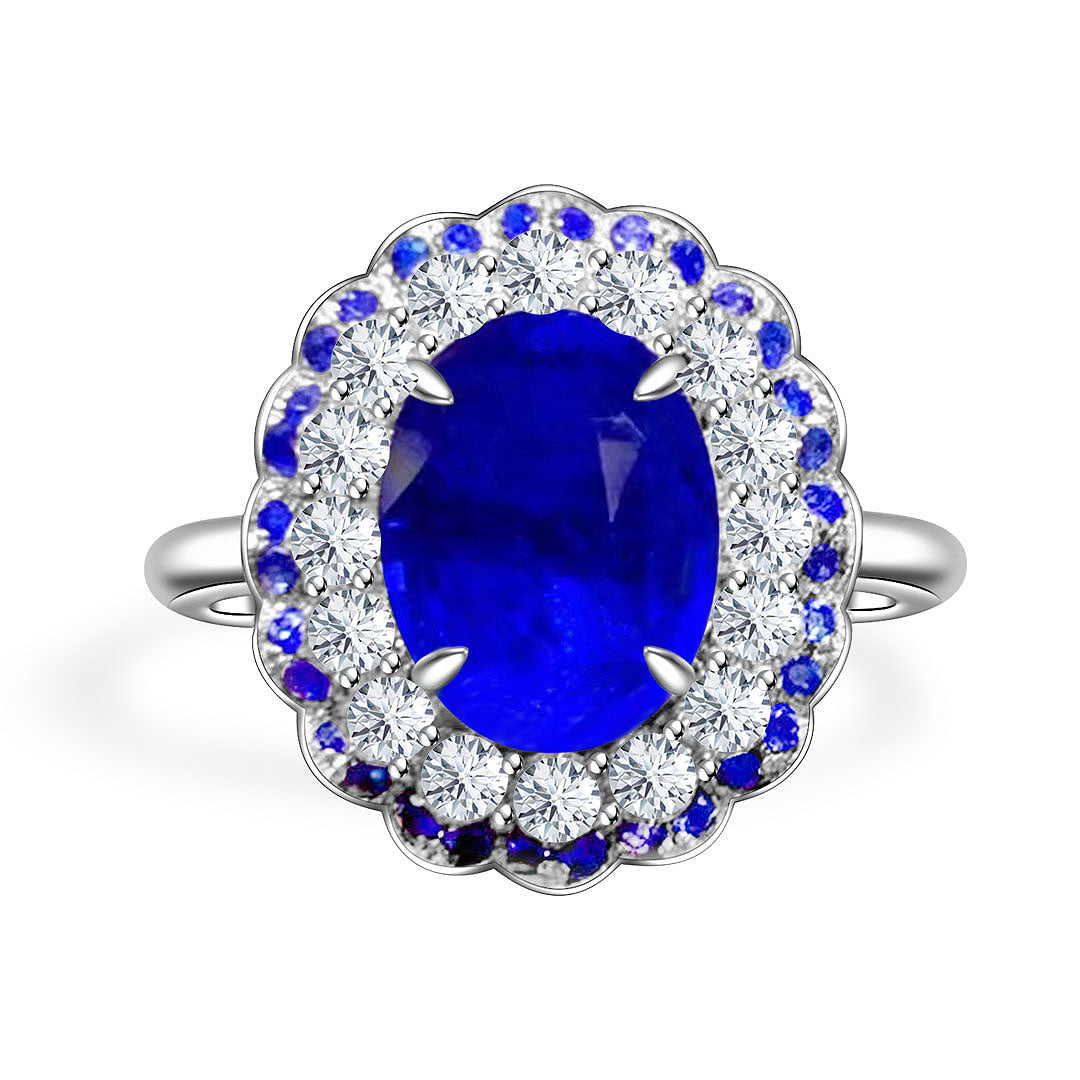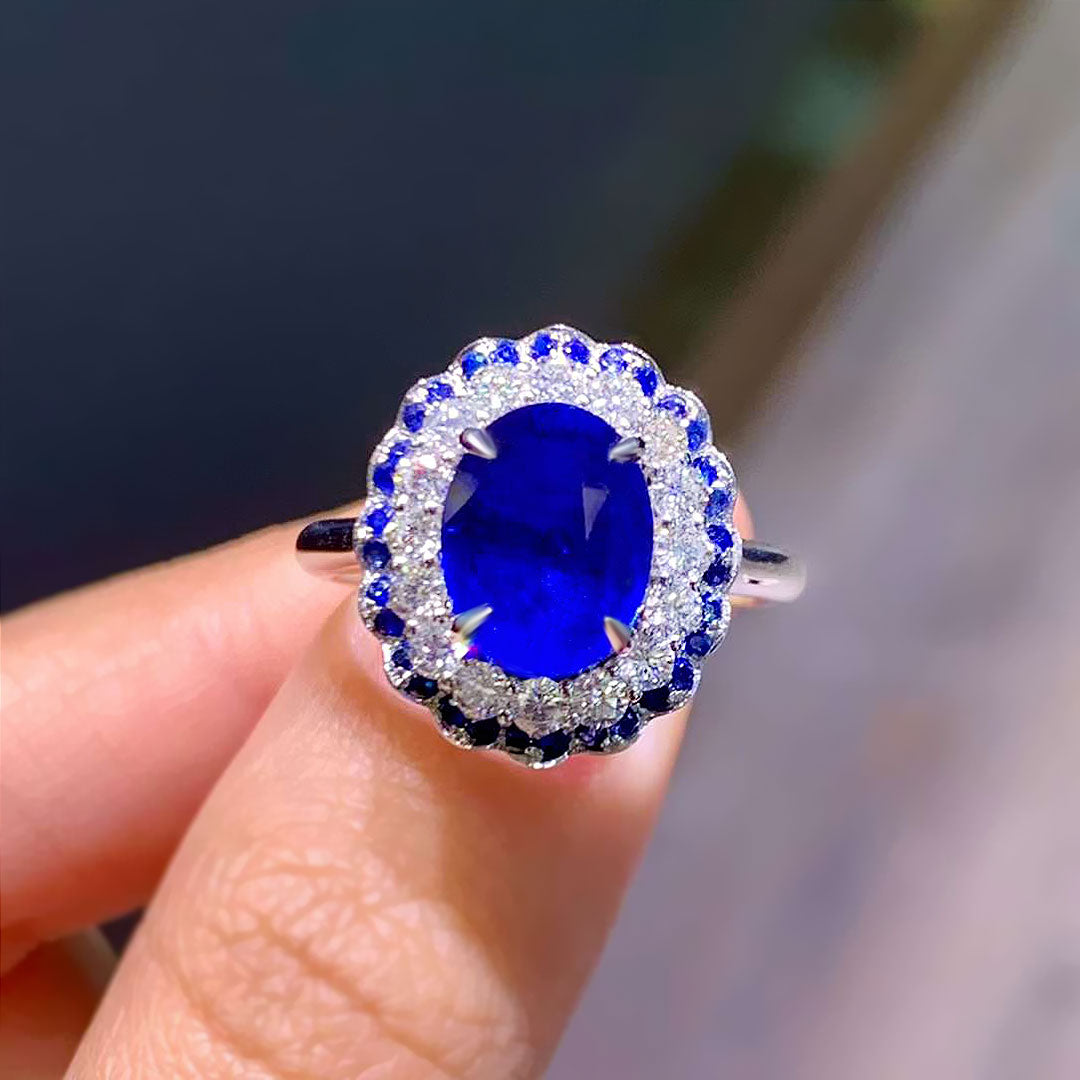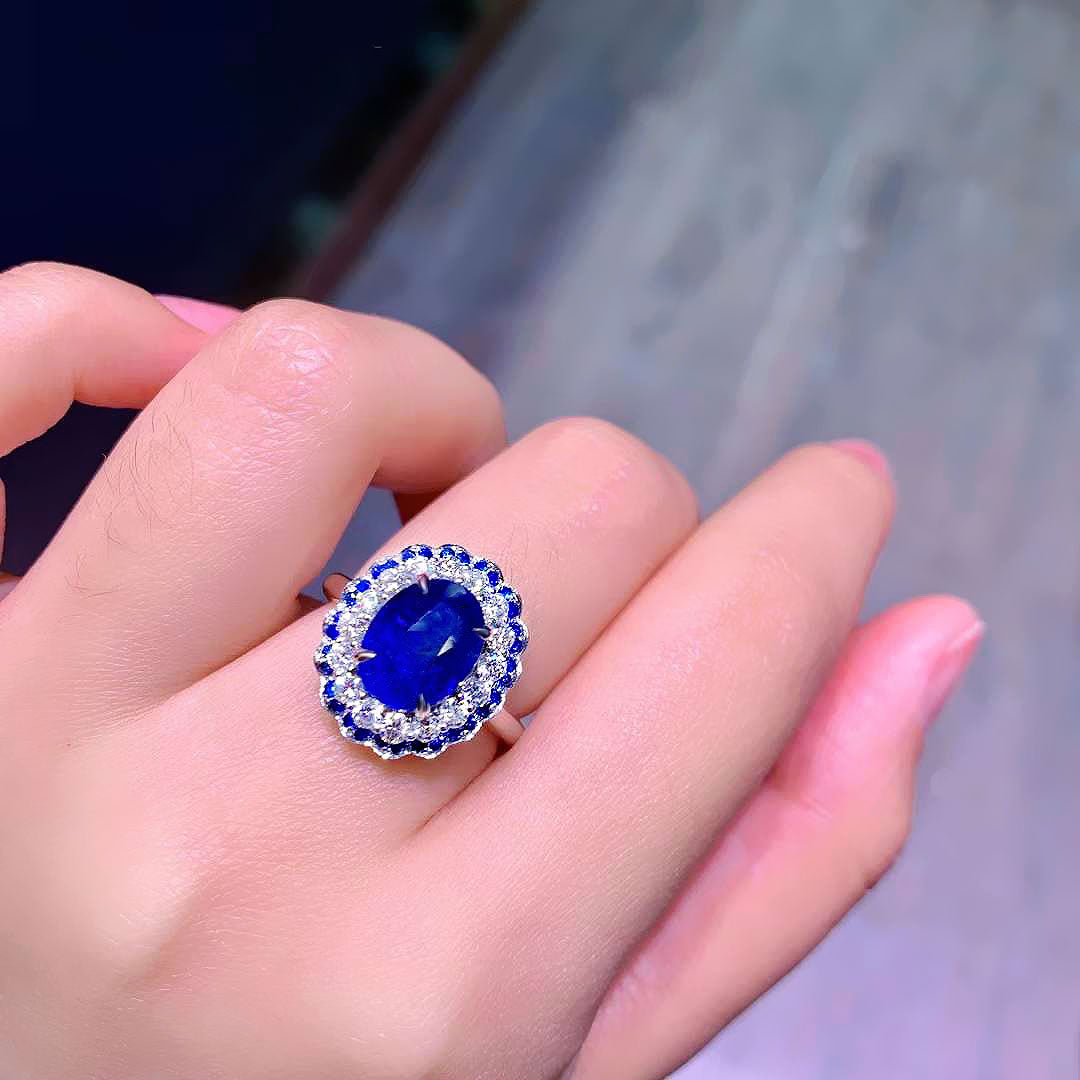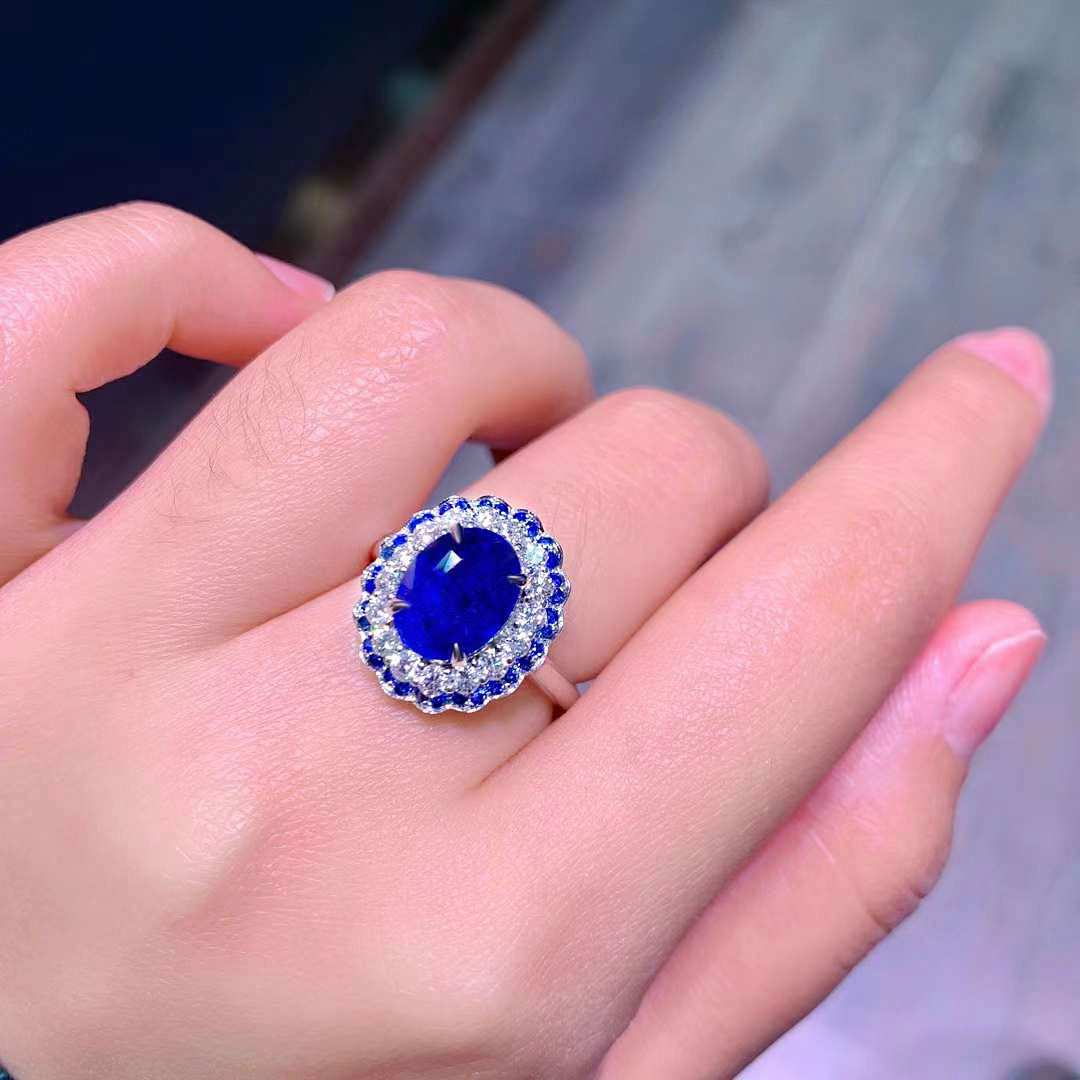 3 carats Royal Blue Sapphire and Diamonds Ring
Estimated Shipping Widget will be displayed here! (with custom color)
Designed with exemplary craftsmanship, this extraordinary jewel features a sensational 3 carats Oval 100% purely Natural Sapphire set over a cluster of petite sapphires with natural diamonds. When viewed from every angle, the highly saturated center sapphire bursts with eternal life and is meticulously handcrafted in fine 18k White Gold.

Every Sapphire used in our High Jewelry Collection is of the highest quality and is extraordinary in their rights; mostly Unheated and is of the finest Royal Blue Tones. This gorgeous sapphire deserve only the finest accents Diamonds (D-Colorless) diamonds to illuminate and reveal their true beauty.
Only 1% of sapphires of this quality in the world are 100% natural (no-heat treatment). This Unheated Royal Blue Sapphire and Diamonds Ring is yet another royal piece to grace only the woman who dreams of luxury and the rarity of nature.
CENTER STONE DETAILS
| | |
| --- | --- |
| Center stone type | Natural Sapphire |
| Center stone color | Blue |
| Center stone weight | 3.59 carats |
| Center stone treatment | Heated |
| Center stone shape/cut | Oval |
SECONDARY GEM & METAL DETAILS
| | |
| --- | --- |
| Stone Type | Natural Diamonds |
| Average color | G |
| Stone weight | 0.72 carats |
| Aprox.total weight | 5.95 grams |
| Stones shape | Round |
| Average clarity | VS |
| Metal Type | 18K White Gold |
| Certifcate | MGJ |
Nature, mother of all natural gemstones, has blessed humanity with an uncountable amount of beauties, and Natural Sapphire is undoubtedly one of the cardinal gemstones celebrated today.
Natural Sapphires are amongst the world's most famous gemstones today, in addition to ruby, emerald and diamonds. This is very acceptable given the endless amount of colours which this gemstone presents.
Natural Sapphires were found thousands of years ago. Back into the First Temple, 957 BCE. Sapphire was part of the twelve most precious stones used in the High Priest's breastplate. To date, nobody knows who the first person to discover sapphire was.
Sapphire derived its name from the Latin word "Sapphiru" which translates into modern English as Blue. Sapphire comes from the mineral Corundum, the same mineral that also produces rubies. While the desired colour of sapphire is blue, sapphire does come in all colours of the rainbow, including Yellow, orange, pink, purple, violet and even intermediate hues. Some rare sapphires do display a phenomenon termed colour change. These sapphires often change colour from blue in daylight fluorescent lighting to even purple under incandescent light. Some natural sapphires can be even black, grey and even brown. Any other colour apart from Blue Sapphire is called Fancy Sapphire.
Since time memorial sapphires have always been associated with dignity, loyalty and is the go-to gem for all royals. Countless sources believed sapphires symbolizes wisdom, luck, virtue and holiness for royals.
When set in an engagement ring, sapphire is said to mean faithfulness and pure sincerity.
The most precious and sought-after blue sapphires are the Cornflower Blue Colour, Royal Blue, and the imperial Kashmir Blue Sapphires.
For Fancy Sapphires, one of the precious colours is the rare Pinkish Orange sapphire knowns as Padparadscha, named from the Sinhalese for Lotus blossom.
NATURAL SAPPHIRE FACTS:
• Mineral: Corundum
• Colour: All Colours except RED
• Refractive Index: 1.762 to 1.770
• Specific gravity: 4.00
• Moh hardness: 9
BIRTHSTONE & ANNIVERSARIES:
Natural Sapphires are the birthstones for September Borns and the perfect gemstone for the 5th and 45th Anniversaires.
Customize this piece in your preferred gemstone type
- Center stone availability: Natural Diamond, Ruby, Sapphire, Emerald, Moissanite, Opal and more.
- Center Stone Shapes: Oval, Round, Emerald, Radiant, Cushion, Pear, Princess and more.
- Metal Type: 18K Gold, 14K Gold, Platinum PT-950.
Each and every MODERN GEM JEWELRY® piece is made-to-order. The estimated arrival date is calculated based on production time of your item, a reference time-line is displayed on the product page or checkout page. An adult signature is required at the time of delivery for added security.
*For rushed orders please contact customer care.
THE PROCESS
Your Bespoke Journey - Crafting Perfection
Your journey with us goes beyond buying jewelry; it's about co-creating an extraordinary piece that reflects your style. Trust us to make this journey exceptional.
Expert Gemstone Selection
Our in-house artisan will present you with the top three gemstone options for your piece. The Choice is Yours.
Personalized Simulations
Receive a detailed simulation of your dream piece and make all the adjustments till it's perfect!
Artisan Craftsmanship
Our experts bring your design to life with the finest techniques. Handcrafting your piece, ensuring it's made to last.
Elegant Packaging
Your piece is carefully packaged for your moments. Insured and shipped to you wherever you are in the world.
LUXURY PACKAGING
Perfect For Every Moment
At Saratti, our dedication extends from your first click to the moment you unwrap your treasure. Handcrafted individually, reasonably priced, and designed for enduring wear.

Every parcel bears our hallmark SARATTI packaging. Our engagement rings are held in a deluxe ring box, enclosed in an exquisite case - the perfect accompaniment for your cherished proposal or momentous occasion. This case also keeps your GIA/IGI diamond and gemstone grading reports safe.

Unmounted gemstones discover their abode within a flawless diamond/gemstone case, guaranteeing their safety and timeless beauty.