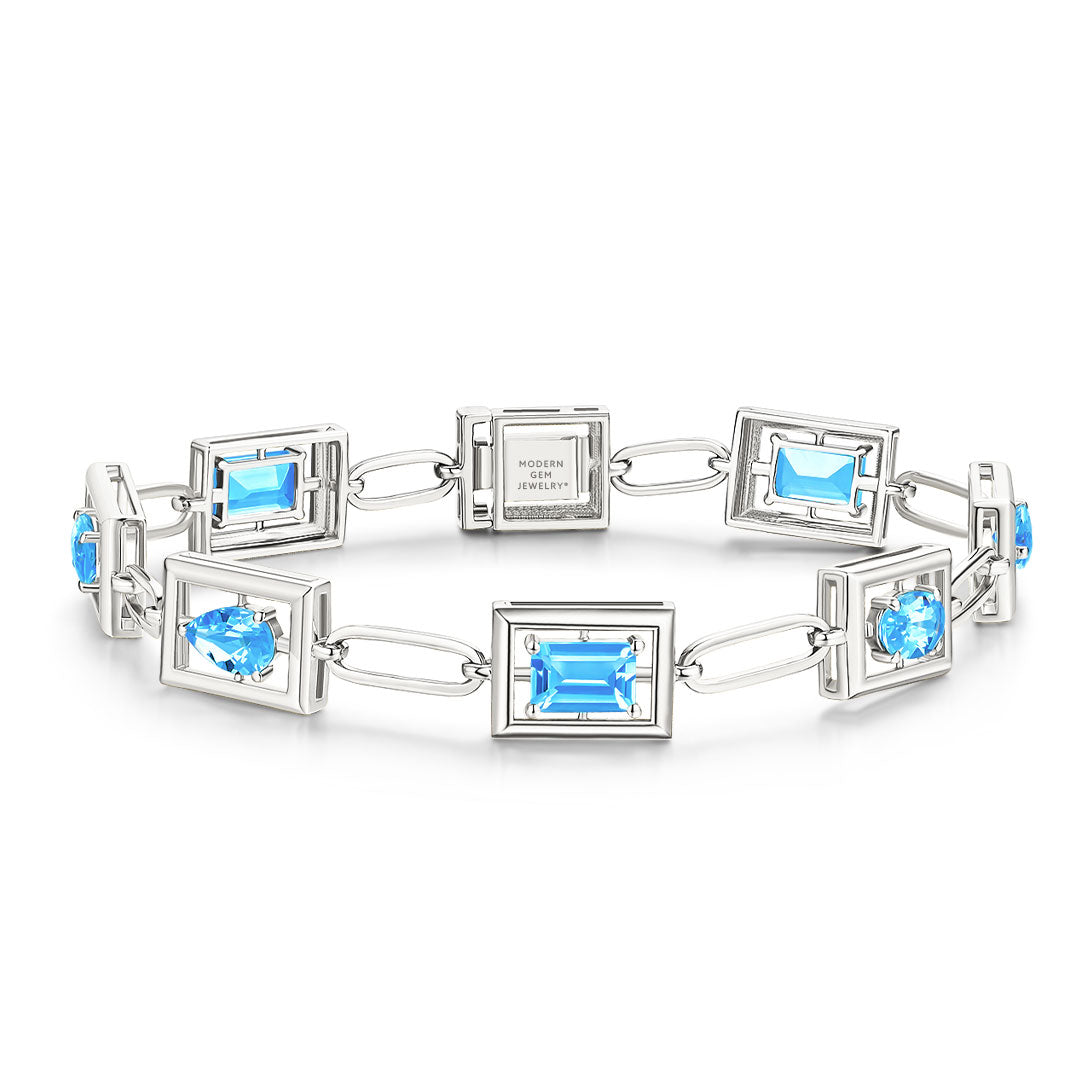 Blue Topaz Bracelet In 18K White Gold
Estimated Shipping Widget will be displayed here! (with custom color)
Shine and sparkle in beauty with this lush, December birthstone jewel, featuring a collection and a mixture of pear, oval, and emerald-cut natural topaz in the most eye-catching of hues - Swiss Blue. This Blue Topaz bracelet is designed and handcrafted masterfully in 18K White Gold and is the perfect go-to piece for any occasion. 

MAIN STONE DETAILS
| | |
| --- | --- |
| Stone type | Natural Topaz |
| Stones average color | Swiss Blue |
| Stones total weight | 3.5 carats |
| Stones clarity | Eye Clean |
| Stones shape/cut | Emerald/Oval/Pear |
SECONDARY GEM & METAL DETAILS
| | |
| --- | --- |
| Side Stones | None |
| Metal Type | 18K Gold |
| Metal Color | WHITE |
| Product Code | 10289B |
| Certificate | MGJ |
THE SKY BLUE GEM
A prestigious gemstone praised throughtout centuries for its many unique durability, lustre and vibrant color. Colorless or brown in its purest form, Topaz is a gorgeous stone that occurs naturally in many beautiful shades but rarely in purple, pink and dark blue. Natural Topaz is known as the gemstone of forgiveness and truth. Topaz was one of the 12 stones used to lay the foundation for the New Jerusalem's walls in heaven, according to the Bible. While the Egyptians attributed the gem's radiant glow to the mighty Sun God "Ra," the Romans, on the other hand, dedicated it to Jupiter, the king of all gods.
Natural Topaz gemstone comes in a variety of colors, but pure topaz is colorless and contains inclusions. Most topaz stones are given a more profound and brighter color by a good quality cut and industrial treatments. The price of an extremely rare pink or orange topaz is comparable to that of a more common color, such as yellow. Imperial topaz is by far the most expensive variety of topaz found in nature. It is scarce and has a bright orange color with pink undertones. A genuine Imperial topaz is never treated, irradiated, or colored artificially.
Topaz is a hard and durable gemstone with a Mohs Scale of 8, making it ideal and perfect for daily wear. A Topaz, like any other gem, must be kept safe from hard effects. The perfect separation of this stone can be difficult to achieve during the cutting process. However, most cutters place the stone's table 5-10% off the cleavage plane. As a result, the stone is much more stable, making it ideal for a wide range of jewellery, including rings, necklaces, and earrings.
Topaz is among the most prominent semi-precious gems on the market, especially the blue varieties. Numerous factors influence the quality of this appealing gemstone, the most pertinent of which is the color.
The Ural Mountains in Russia and Texas in the USA are the regions that produce the majority of natural blue topaz. Silver topaz is a colorless variant of this gem found in Sri Lanka, Nigeria, and China. Pink topaz, on the other hand, because of its extreme rarity, is only found in Russia and the Kallang region of Pakistan.
TOPAZ FACTS:
• Mineral: Silicates
• Color: White, Colorless, Blue, Red, Green, Yellow, Orange, Brown, Pink, Purple, Gray, Multicolored
• Refractive Index: 1.610 to 1.638
• Specific gravity: 3.4 to 3.6
• Moh hardness: 8
BIRTHSTONE & ANNIVERSARIES:
Blue Topaz is the birthstone for December borns.
The Topaz is also the gemstone for the 4th wedding anniversaries.
Customize this piece in your preferred gemstone type
- Center stone availability: Natural Diamond, Ruby, Sapphire, Emerald, Moissanite, Opal and more.
- Center Stone Shapes: Oval, Round, Emerald, Radiant, Cushion, Pear, Princess and more.
- Metal Type: 18K Gold, 14K Gold, Platinum PT-950.
Each and every MODERN GEM JEWELRY® piece is made-to-order. The estimated arrival date is calculated based on production time of your item, a reference time-line is displayed on the product page or checkout page. An adult signature is required at the time of delivery for added security.
*For rushed orders please contact customer care.
THE PROCESS
Your Bespoke Journey - Crafting Perfection
Your journey with us goes beyond buying jewelry; it's about co-creating an extraordinary piece that reflects your style. Trust us to make this journey exceptional.
Expert Gemstone Selection
Our in-house artisan will present you with the top three gemstone options for your piece. The Choice is Yours.
Personalized Simulations
Receive a detailed simulation of your dream piece and make all the adjustments till it's perfect!
Artisan Craftsmanship
Our experts bring your design to life with the finest techniques. Handcrafting your piece, ensuring it's made to last.
Elegant Packaging
Your piece is carefully packaged for your moments. Insured and shipped to you wherever you are in the world.
LUXURY PACKAGING
Perfect For Every Moment
At Saratti, our dedication extends from your first click to the moment you unwrap your treasure. Handcrafted individually, reasonably priced, and designed for enduring wear.

Every parcel bears our hallmark SARATTI packaging. Our engagement rings are held in a deluxe ring box, enclosed in an exquisite case - the perfect accompaniment for your cherished proposal or momentous occasion. This case also keeps your GIA/IGI diamond and gemstone grading reports safe.

Unmounted gemstones discover their abode within a flawless diamond/gemstone case, guaranteeing their safety and timeless beauty.