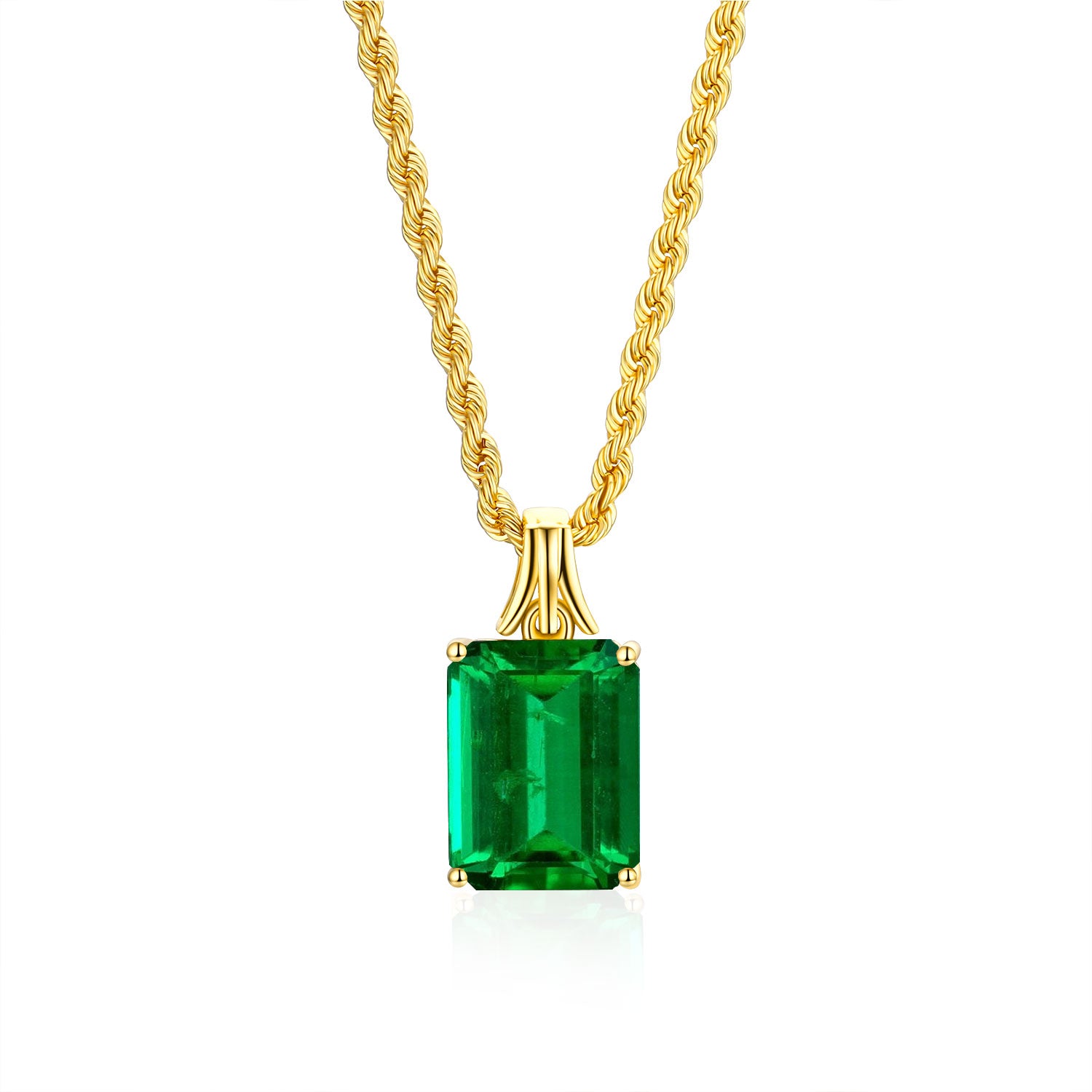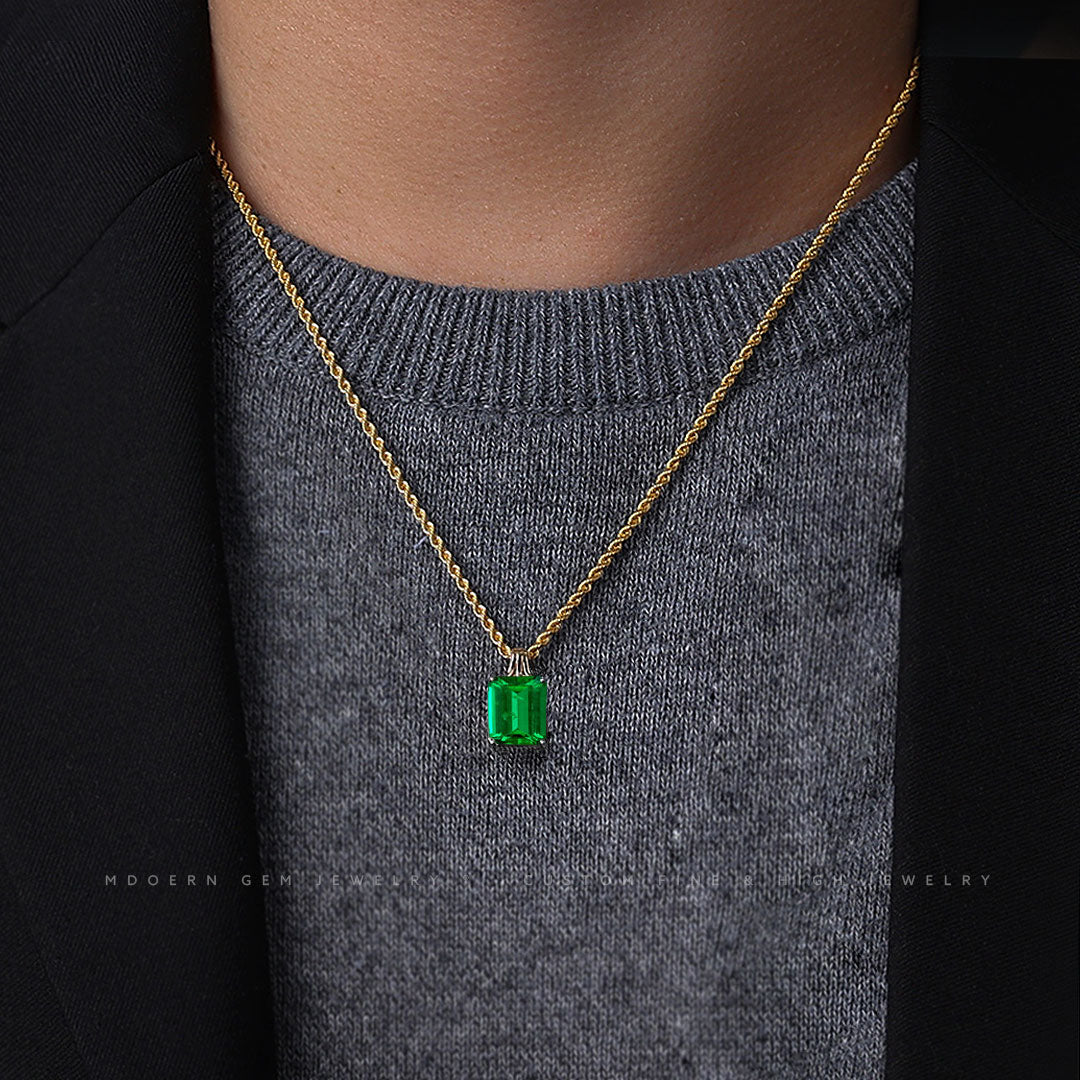 Heirloom 5 carats Natural Emerald 18K Yellow Gold Necklace
Estimated Shipping Widget will be displayed here! (with custom color)
An exquisite 5-carat Emerald Necklace with a rope chain in 18K Yellow Gold is a stunning piece of jewelry that will turn heads and make a statement.
Properly handcrafted with care and precision, the necklace features a radiant 5-carat emerald gemstone at the center, held by a classic four-prong setting. This necklace dazzles with nothing but pure elegance as the pendant hangs of a stunning 18K Yellow Gold Rope Design Chain with a total length of 55cm. The emerald is of the highest quality, boasting a rich, deep green color that is bold and elegant.
The 18K Yellow Gold rope chain adds to the necklace's timeless appeal, providing a sturdy and durable foundation that complements the emerald and diamonds beautifully.
Perfect for any occasion, whether a formal event or a night out on the town, this necklace will make a lasting impression. It makes an excellent gift for a loved one or a treat for yourself to add a touch of luxury to your jewelry collection.
Why Emeralds? 
• One of the world's top five gems
• Stunning Internal Structure
• Emerald celebrates Uniqueness 
• Symbolizes Rebirth
• May Birthstone 
• Twentieth and Thirty-fifth Wedding Anniversary Stone
CENTER STONE DETAILS
| | |
| --- | --- |
| Stone type | Natural Emerald |
| Stone color | Very Very Green |
| Stone weight | 5 carat |
| Stone treatment | Minor Oil |
| Stone shape/cut | Emerald-Cut |
| Item # | NF611 |
CHAIN & METAL DETAILS
| | |
| --- | --- |
| Chain Design | Rope |
| Length | 55 cm |
| Metal Type | 18K Yellow Gold |
| Certificate | MGJ |
KING OF ALL GREEN GEMSTONES

For over 4,000 years, this miraculous gemstone has always been the most wanted in soothing and comforting the soul with its unparalleled green hue. This truly remarkable gemstone has always been believed to represent love, eternal youth, and rebirth. Over the centuries, this gemstone has inspired countless names to describe its lush green beauty. Places worldwide such as The Emerald Isle in Ireland, the Philippines, Muntinlupa City, Washington, Seattle, and Oregon are all known as the Emerald City.

The name 'Emerald' was derived from the ancient greek green, "asparagus." Emerald was first known to be mined in ancient Egypt, dating back from 330 BC to the 1700s. At that time, the Queen of the Ptolemaic Kingdom of Egypt(Cleopatra) was known to have a strong passion for emeralds and always used them in her royal adornments.

Today emeralds are sourced from several countries across the globe, with Columbians producing some of the most delicate and most precious emeralds today. Zambia, Brazil, Russia, Afghanistan, and Zimbabwe have gem-quality emeralds used in fine jewelry.

Emerald is the most famous gem from the Beryl family amongstt Aquamarine, Golden Beryl, and Morganite. Emeralds with ligger green tones are less expensive than the highly saturated deep green color.
Emeralds come in a host of shapes and cuts, such as the traditional octagonal shape, heart, and oval.
Below are a few facts about Natural Emeralds


EMERALD FACTS:

• Mineral: Beryl
• Color: Bluish Green to Deep Green
• Refractive Index: 1.577 to 1.583
• Specific gravity: 2.72
• Moh hardness: 7.5 to 8

BIRTHSTONE & ANNIVERSARIES:

Emerald is the gem of spring and has always been the perfect choice as the birthstone for any May born.
This May birthstone is also associated with the twentieth and thirty-fifth wedding anniversary.
Customize this piece in your preferred gemstone type
- Center stone availability: Natural Diamond, Ruby, Sapphire, Emerald, Moissanite, Opal and more.
- Center Stone Shapes: Oval, Round, Emerald, Radiant, Cushion, Pear, Princess and more.
- Metal Type: 18K Gold, 14K Gold, Platinum PT-950.
Each and every MODERN GEM JEWELRY® piece is made-to-order. The estimated arrival date is calculated based on production time of your item, a reference time-line is displayed on the product page or checkout page. An adult signature is required at the time of delivery for added security.
*For rushed orders please contact customer care.
THE PROCESS
Your Bespoke Journey - Crafting Perfection
Your journey with us goes beyond buying jewelry; it's about co-creating an extraordinary piece that reflects your style. Trust us to make this journey exceptional.
Expert Gemstone Selection
Our in-house artisan will present you with the top three gemstone options for your piece. The Choice is Yours.
Personalized Simulations
Receive a detailed simulation of your dream piece and make all the adjustments till it's perfect!
Artisan Craftsmanship
Our experts bring your design to life with the finest techniques. Handcrafting your piece, ensuring it's made to last.
Elegant Packaging
Your piece is carefully packaged for your moments. Insured and shipped to you wherever you are in the world.
LUXURY PACKAGING
Perfect For Every Moment
At Saratti, our dedication extends from your first click to the moment you unwrap your treasure. Handcrafted individually, reasonably priced, and designed for enduring wear.

Every parcel bears our hallmark SARATTI packaging. Our engagement rings are held in a deluxe ring box, enclosed in an exquisite case - the perfect accompaniment for your cherished proposal or momentous occasion. This case also keeps your GIA/IGI diamond and gemstone grading reports safe.

Unmounted gemstones discover their abode within a flawless diamond/gemstone case, guaranteeing their safety and timeless beauty.