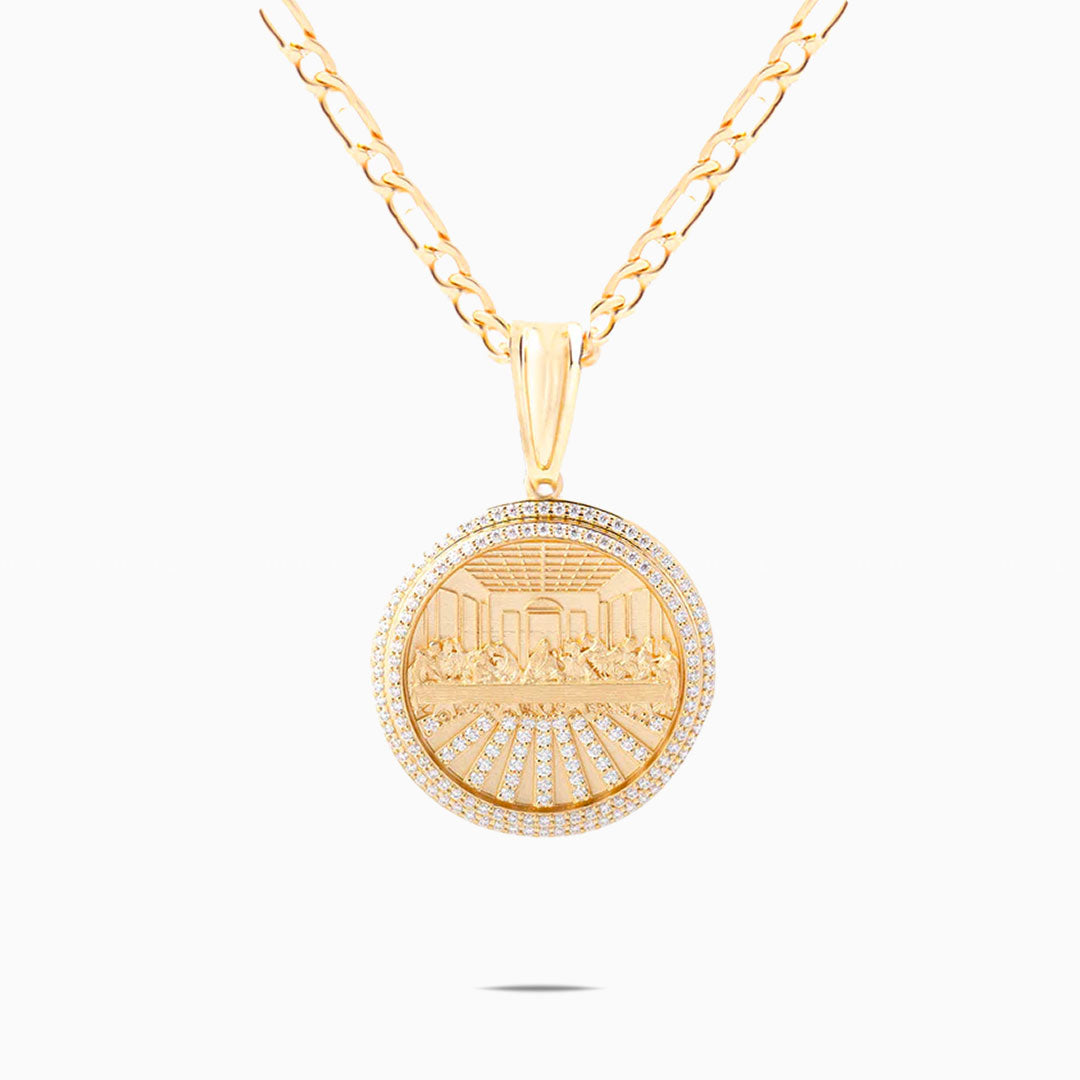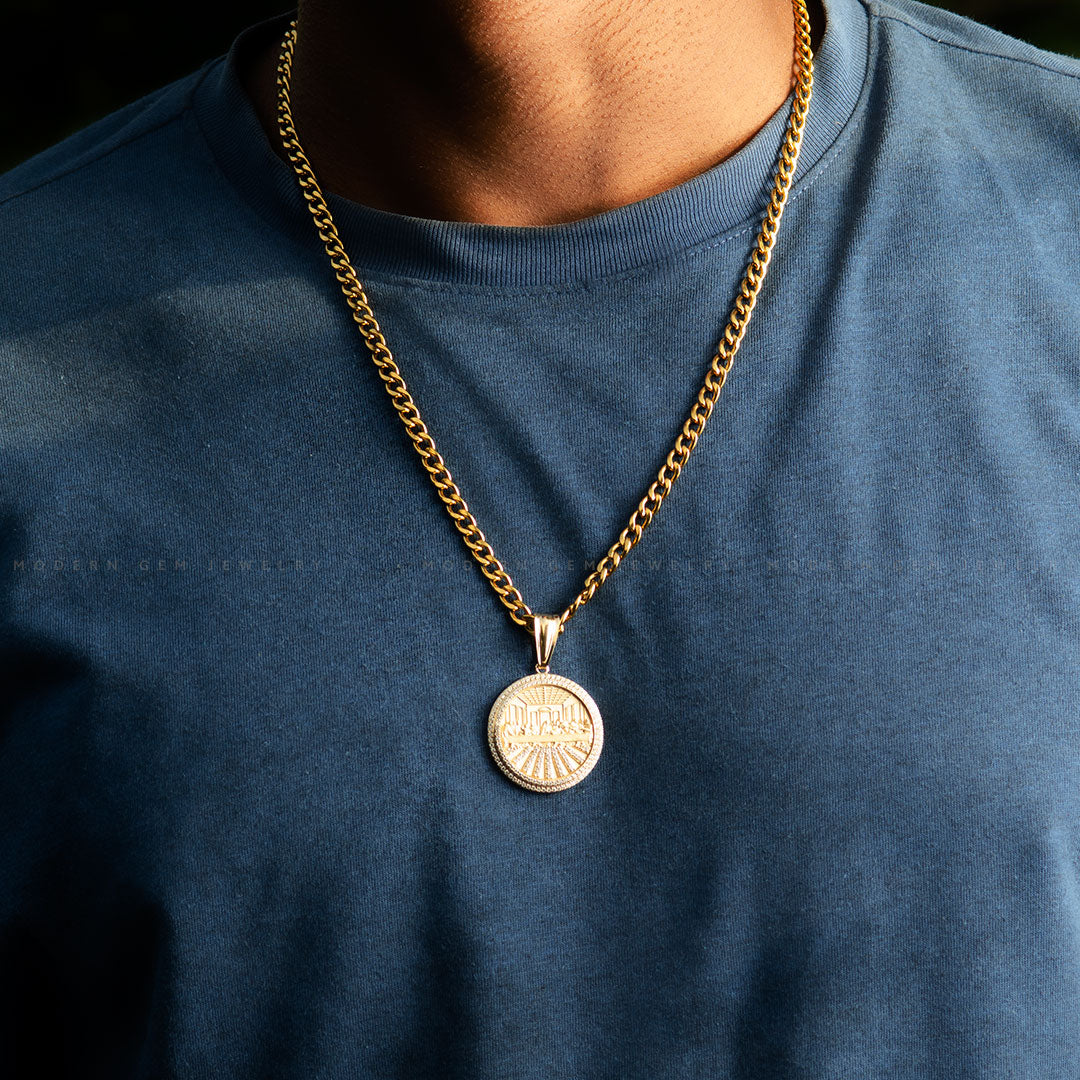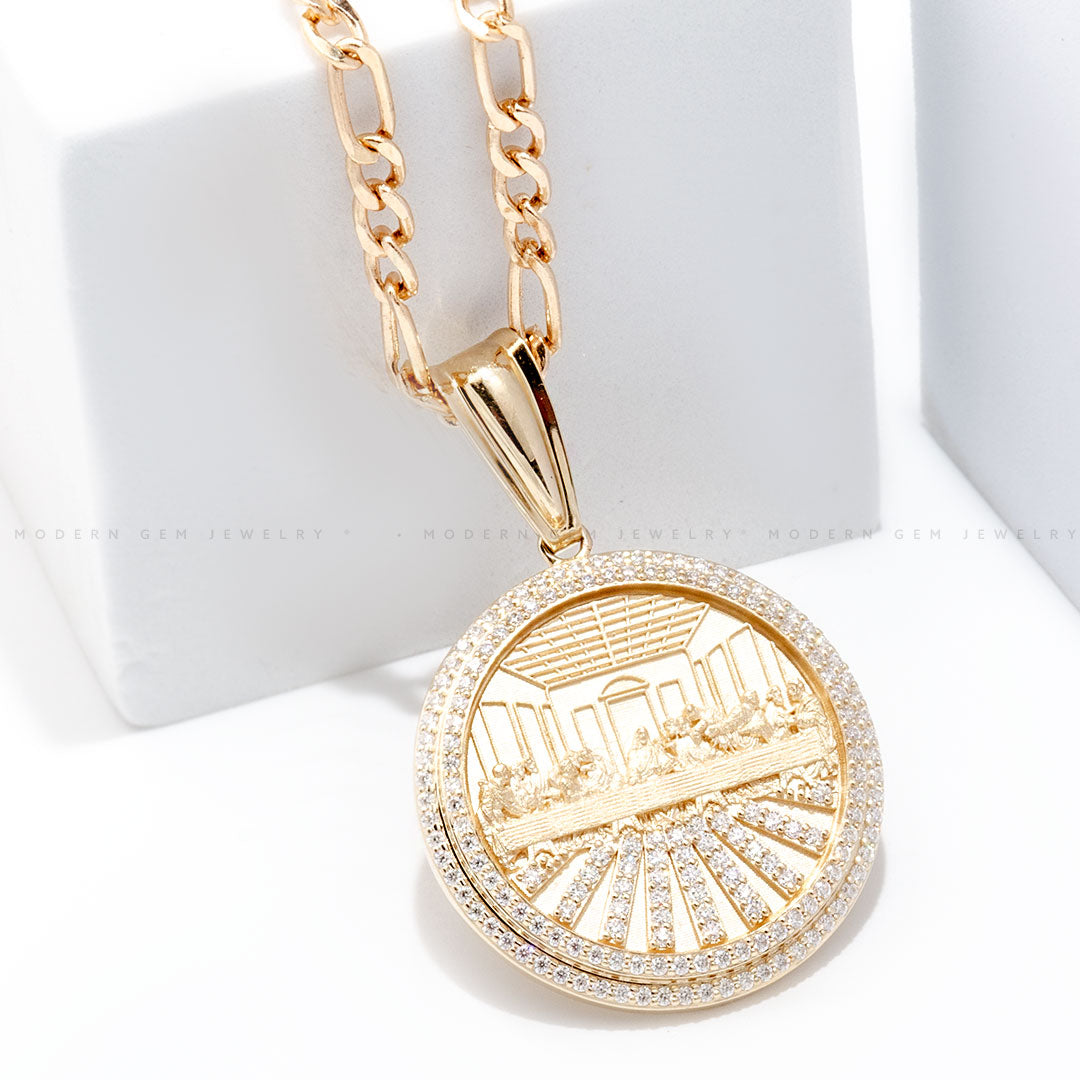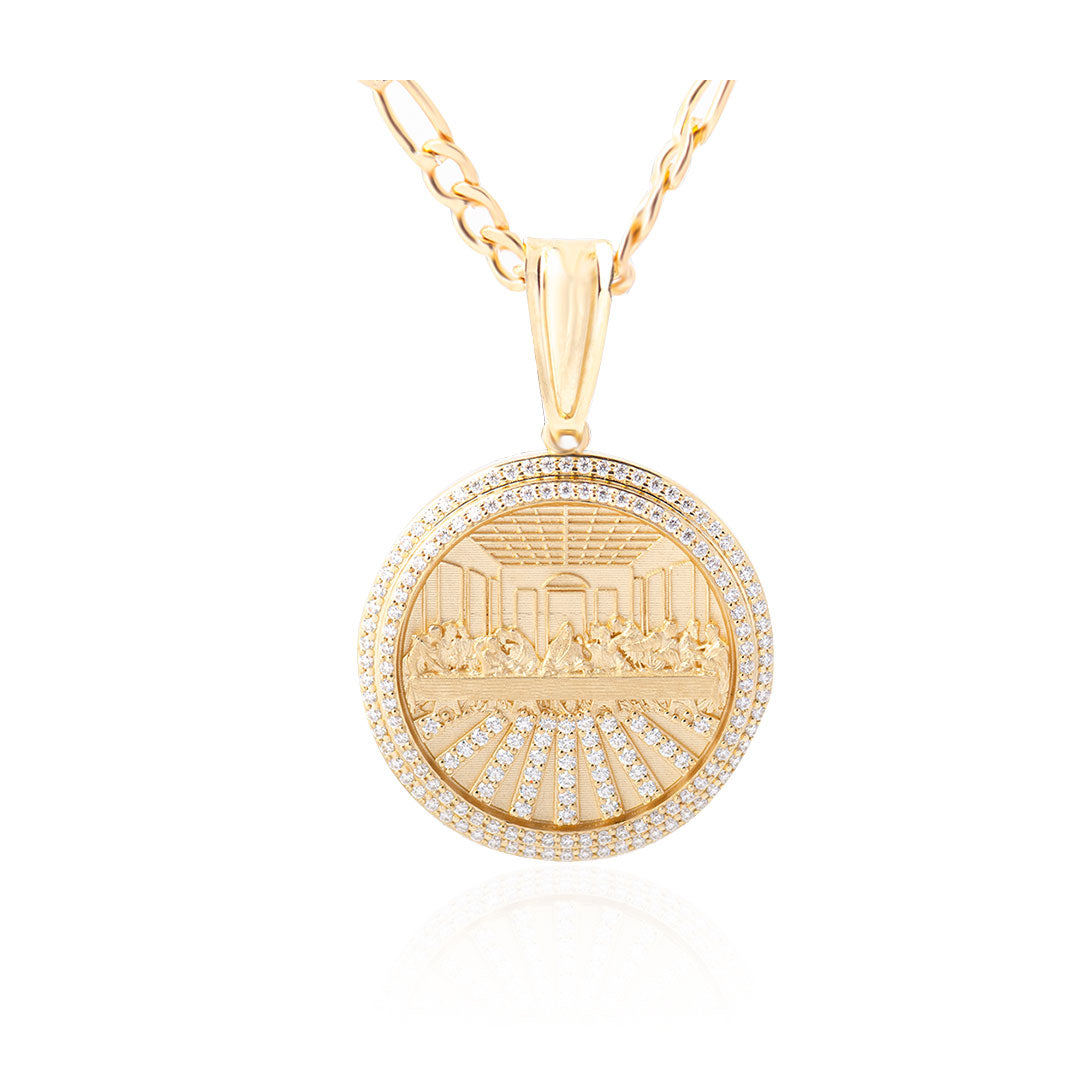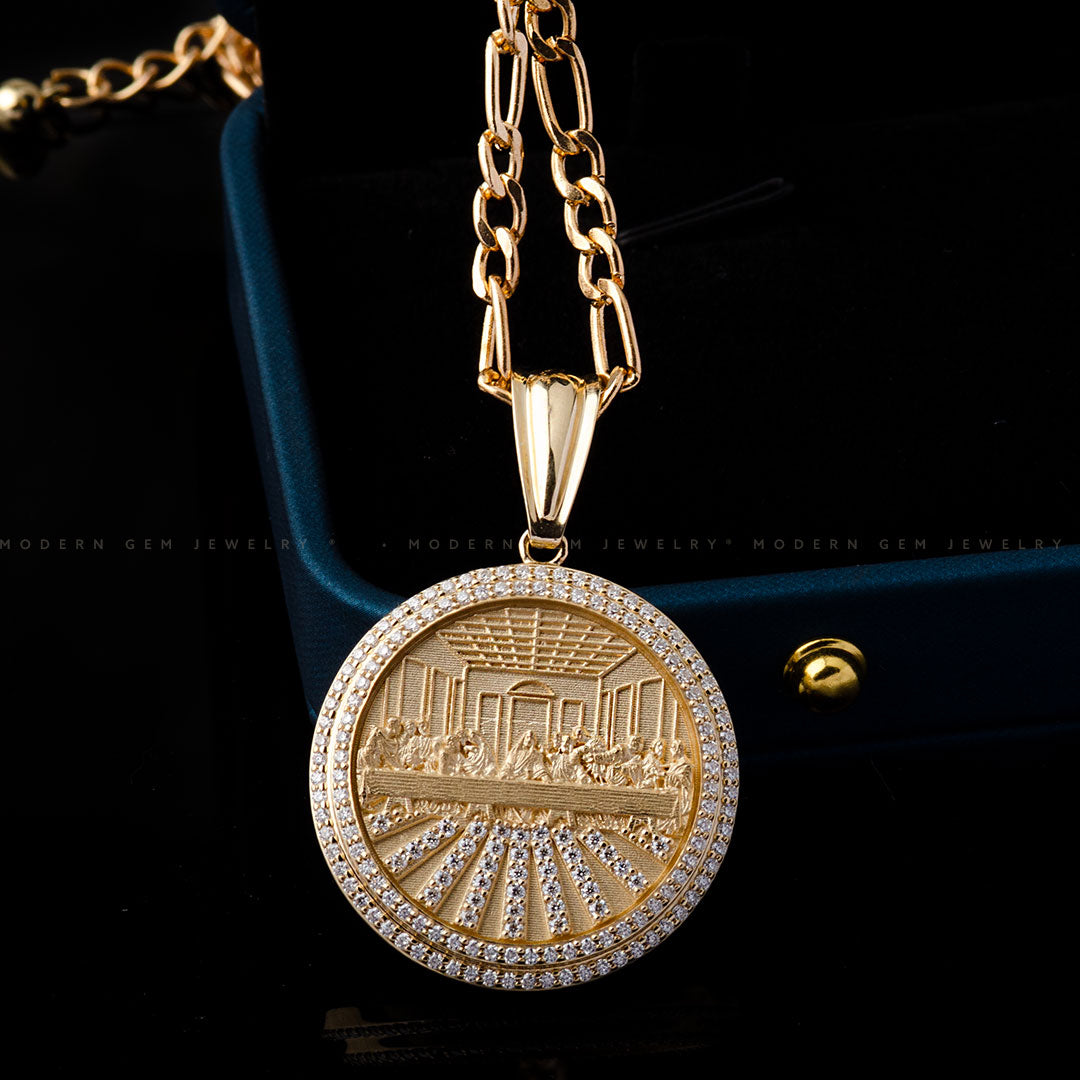 Last Supper Pendant in 14K Gold
Estimated Shipping Widget will be displayed here! (with custom color)
Inspired by religion and the work of art by our world-class artisans, be submerged by intricate details that hold meaning to many. A very precious and meaningful jewel, The Last Super Pendant is carefully handcrafted in genuine and solid 14K gold with cherry-picked natural diamonds glittering all over.

PRODUCT DETAILS
| | |
| --- | --- |
| Stone Type | Natural Diamond |
| Average Color | Yellow |
| Approx total carat weight | 0.9 carat |
| Stones shape | Round |
| Average Clarity | VS |
| Approximate Length | 45 mm |
| Approximate Width | 30 mm |
| Clasp/Clip Dimension | 6 mm |
| Metal Type | 18K Gold |
| Metal Color | Yellow |
| Modern Gem Item # | NFJ232 |
About Lab Diamonds

Lab-grown diamonds are artificial diamonds that have been generated in a highly controlled laboratory setting by scientists. The chemical composition, carbon atom structure, optical qualities, and physical attributes of lab-grown diamonds are identical to natural diamonds. This implies they're equally as stunning and durable as mined diamonds. The only significant distinction between natural and lab-grown diamonds is how they are formed.


Lab Diamond FACTS:

• Mineral : Carbon
• Refractive Index : 2.417 to 2.419
• Specific gravity : 3.50 to 3.53
• Moh hardness : 10

About Moissanites

Moissanite is a mineral that is both exceedingly beautiful and extremely uncommon. It occurs naturally in the form of silicon carbide, and it is extremely valuable. This near-colorless gem, which is over 2.5 times more brilliant than a diamond, has its own special qualities and magnificence that distinguish it as a one-of-a-kind treasure. The vast majority of moissanites on the market today are virtually colorless. However, in some lighting conditions, they might be seen to have overtones of yellow or gray in them at times.
When it comes to moissanite value, color does play a role, with colorless and near-colorless varieties commanding a higher price than the colored varieties. Moissanites sold in the market are typically eye-clean, which indicates that they do not include any inclusions that are apparent to the naked eye. When examined under a microscope, though, you may notice needle-like inclusions that are a natural result of the crystal's development process. Clarity is determined by studying the inclusions in a moissanite, which may have the ability to detract from the gem's optical beauty. Cut Moissanite is a hard gem that may be cut into any shape you wish, but the round brilliant cut is the most common shape for this gem. It is also available in a variety of various forms, including oval, pear, princess, cushion, heart, and marquise, to name a few instances.


Moissanite FACTS:

• Mineral : Silicon Carbide
• Refractive Index : 2.65-2.69
• Specific gravity : 3.22
• Moh hardness : 9.25
COMPARISON
(Natural Diamond VS Lab Diamond VS Moissanite)
| | | |
| --- | --- | --- |
| Natural Diamonds | Lab Diamond | Moissanite |
| Earth-Made | Man-made | Man-made |
| Billions of Years to create | Takes a month to create | Takes a month to create |
| Not so Eco-friendly | Eco-friendly | Eco-friendly |
| Very Durable | Very Durable | Durable |
| Expensive | 50% Cheaper | 80% Cheaper |
| | Looks exactly like a diamond | Looks similar to a diamond |
Customize this piece in your preferred gemstone type
- Center stone availability: Natural Diamond, Ruby, Sapphire, Emerald, Moissanite, Opal and more.
- Center Stone Shapes: Oval, Round, Emerald, Radiant, Cushion, Pear, Princess and more.
- Metal Type: 18K Gold, 14K Gold, Platinum PT-950.
Each and every MODERN GEM JEWELRY® piece is made-to-order. The estimated arrival date is calculated based on production time of your item, a reference time-line is displayed on the product page or checkout page. An adult signature is required at the time of delivery for added security.
*For rushed orders please contact customer care.
THE PROCESS
Your Bespoke Journey - Crafting Perfection
Your journey with us goes beyond buying jewelry; it's about co-creating an extraordinary piece that reflects your style. Trust us to make this journey exceptional.
Expert Gemstone Selection
Our in-house artisan will present you with the top three gemstone options for your piece. The Choice is Yours.
Personalized Simulations
Receive a detailed simulation of your dream piece and make all the adjustments till it's perfect!
Artisan Craftsmanship
Our experts bring your design to life with the finest techniques. Handcrafting your piece, ensuring it's made to last.
Elegant Packaging
Your piece is carefully packaged for your moments. Insured and shipped to you wherever you are in the world.
LUXURY PACKAGING
Perfect For Every Moment
At Saratti, our dedication extends from your first click to the moment you unwrap your treasure. Handcrafted individually, reasonably priced, and designed for enduring wear.

Every parcel bears our hallmark SARATTI packaging. Our engagement rings are held in a deluxe ring box, enclosed in an exquisite case - the perfect accompaniment for your cherished proposal or momentous occasion. This case also keeps your GIA/IGI diamond and gemstone grading reports safe.

Unmounted gemstones discover their abode within a flawless diamond/gemstone case, guaranteeing their safety and timeless beauty.