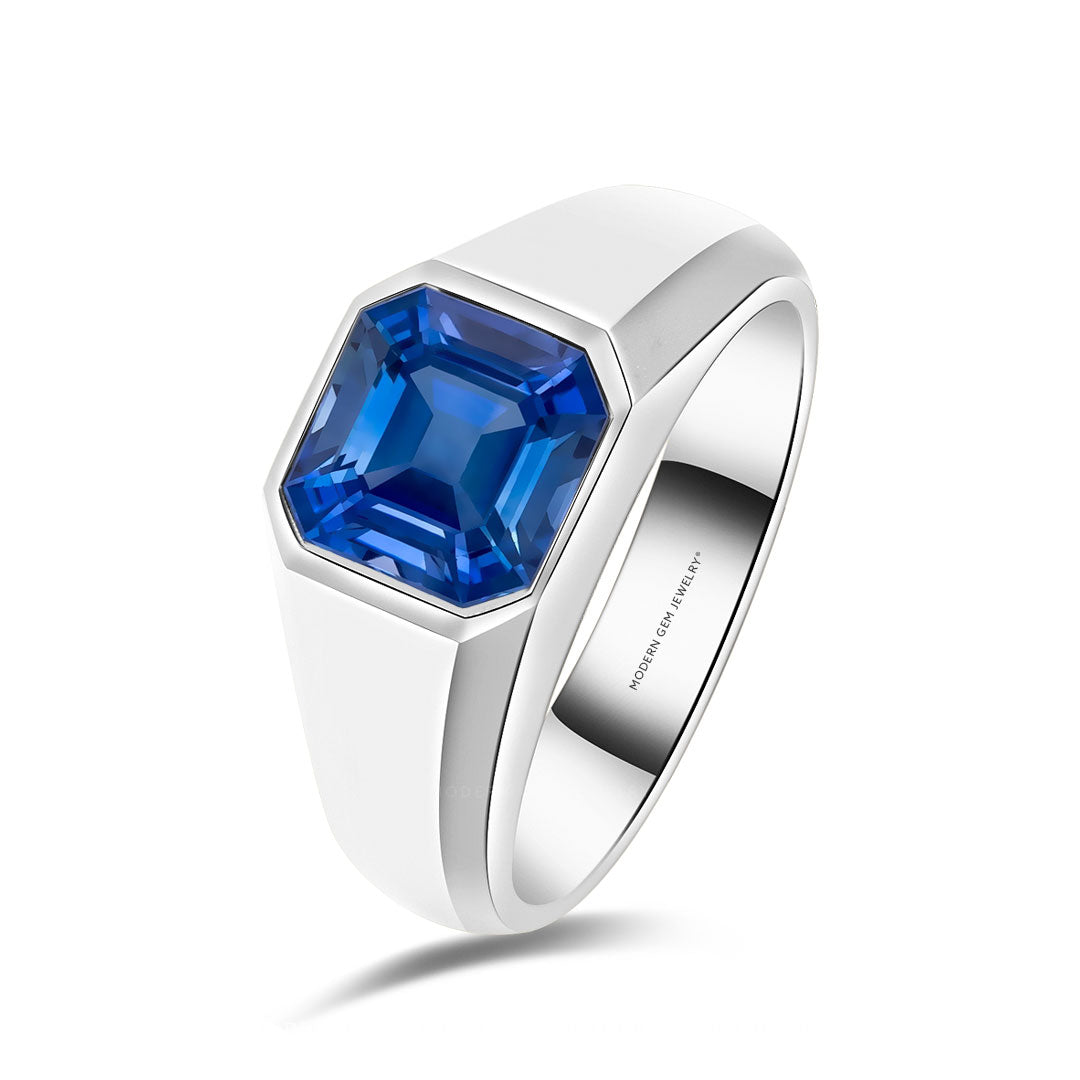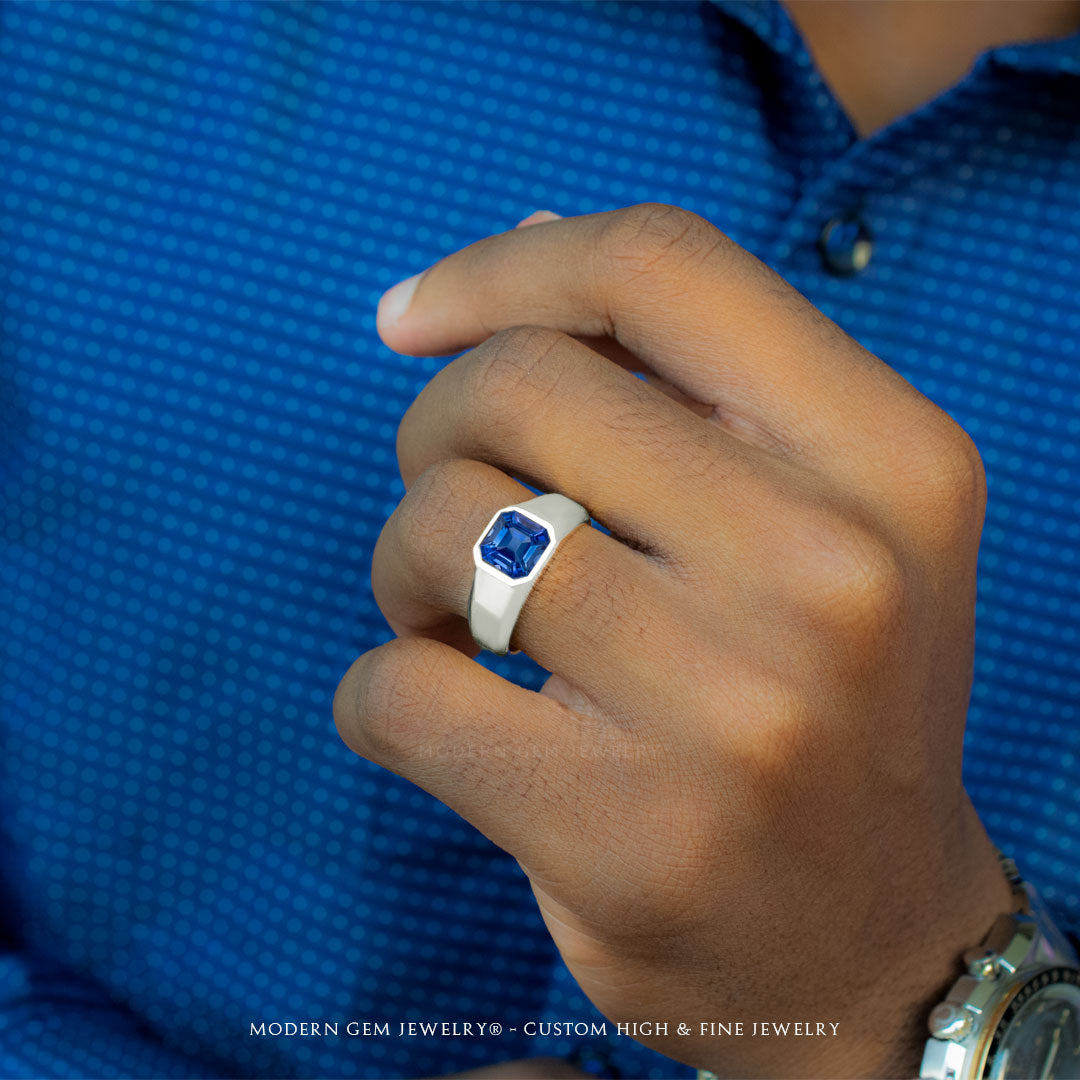 Mens Sapphire Wedding Band In White Gold
Estimated Shipping Widget will be displayed here! (with custom color)
Treat yourself to the deluxe Men's Sapphire Wedding Band in White Gold. This striking ring sparkles with a luminous sapphire at its center cradled in a swirling display of white gold.
With its intense blue color, the sapphire is a symbol of enduring loyalty and love – the perfect iconic representation of your steadfast devotion. Lovingly crafted with exquisite attention to detail, this wedding band adds a luxurious touch of refinement to your special day, sure to be treasured for a lifetime. 
MAIN STONE DETAILS
| | |
| --- | --- |
| Main stone type | Natural Sapphire |
| Main stone color | Royal Blue |
| Main stone total weight | 3 carats |
| Main stone treatment | Heated |
| Main stone shape/cut | Emerald-Cut | Square Shape |
| Item # | GM3480890 |
SECONDARY GEM & METAL DETAILS
| | |
| --- | --- |
| Stone Type | N/A |
| Average color | N/A |
| Approx. total weight | N/A |
| Ring Approximate width | 7mm |
| Metal Type | 18K White Gold |
| Certificate | MGJ |
THE MAJESTIC SAPPHIRE: RULER OF THE BLUE GEMSTONES
For over 4,000 years, the enchanting sapphire has reigned as the most coveted blue gemstone, casting a spell with its unparalleled blue brilliance. This extraordinary gem has been revered for representing wisdom, truth, and divine blessings, making it a symbol of regality throughout history. The sapphire has inspired awe and admiration from ancient times to today.
Named after the ancient Greek word "sappheiros," this gem's deep blue hues evoke a sense of calm and tranquility. As diverse as the skies above, sapphires come in various captivating shades, ranging from mesmerizing cornflower blue to rich royal blue.
Once cherished by royalty and nobility, sapphires hold an esteemed position in cultures worldwide. Legends speak of sapphires bringing protection, prosperity, and heavenly favor to their fortunate wearers.
Sapphires are sourced from various regions globally, with some of the finest specimens emerging from Sri Lanka, Madagascar, Thailand, Myanmar, and Australia. Renowned for their extraordinary clarity and stunning color, Ceylon sapphires, hailing from Sri Lanka, are particularly revered.
From classic oval cuts to elegant emerald shapes and beyond, sapphires offer a captivating variety of cuts that accentuate their inherent beauty.
SAPPHIRE FACTS:
• Mineral: Corundum
• Color: Various shades of blue
• Refractive Index: 1.762 to 1.770
• Specific Gravity: 3.99 to 4.01
• Mohs Hardness: 9 (second only to diamonds and moissanites)
BIRTHSTONE & ANNIVERSARIES:
The sapphires is the birthstone of September and the gemstone for 5th and 45th wedding anniversaries, representing enduring love and strength.
Customize this piece in your preferred gemstone type:
Center Stones Available: Natural Diamond, Ruby, Sapphire, Emerald, Moissanite, Opal, and more.

Center Stone Shapes: Oval, Round, Emerald, Radiant, Cushion, Pear, Princess and more.

Metal Types: 18K Gold, 14K Gold, Platinum PT-950.
Every MODERN GEM JEWELRY® piece is made-to-order. The estimated arrival date is calculated based on the production time of your item; a reference timeline is displayed on the product page or checkout page. An adult's signature is required at delivery time for added security.
*For rushed orders, please get in touch with customer care.
THE PROCESS
Your Bespoke Journey - Crafting Perfection
Your journey with us goes beyond buying jewelry; it's about co-creating an extraordinary piece that reflects your style. Trust us to make this journey exceptional.
Expert Gemstone Selection
Our in-house artisan will present you with the top three gemstone options for your piece. The Choice is Yours.
Personalized Simulations
Receive a detailed simulation of your dream piece and make all the adjustments till it's perfect!
Artisan Craftsmanship
Our experts bring your design to life with the finest techniques. Handcrafting your piece, ensuring it's made to last.
Elegant Packaging
Your piece is carefully packaged for your moments. Insured and shipped to you wherever you are in the world.
LUXURY PACKAGING
Perfect For Every Moment
At Saratti, our dedication extends from your first click to the moment you unwrap your treasure. Handcrafted individually, reasonably priced, and designed for enduring wear.

Every parcel bears our hallmark SARATTI packaging. Our engagement rings are held in a deluxe ring box, enclosed in an exquisite case - the perfect accompaniment for your cherished proposal or momentous occasion. This case also keeps your GIA/IGI diamond and gemstone grading reports safe.

Unmounted gemstones discover their abode within a flawless diamond/gemstone case, guaranteeing their safety and timeless beauty.