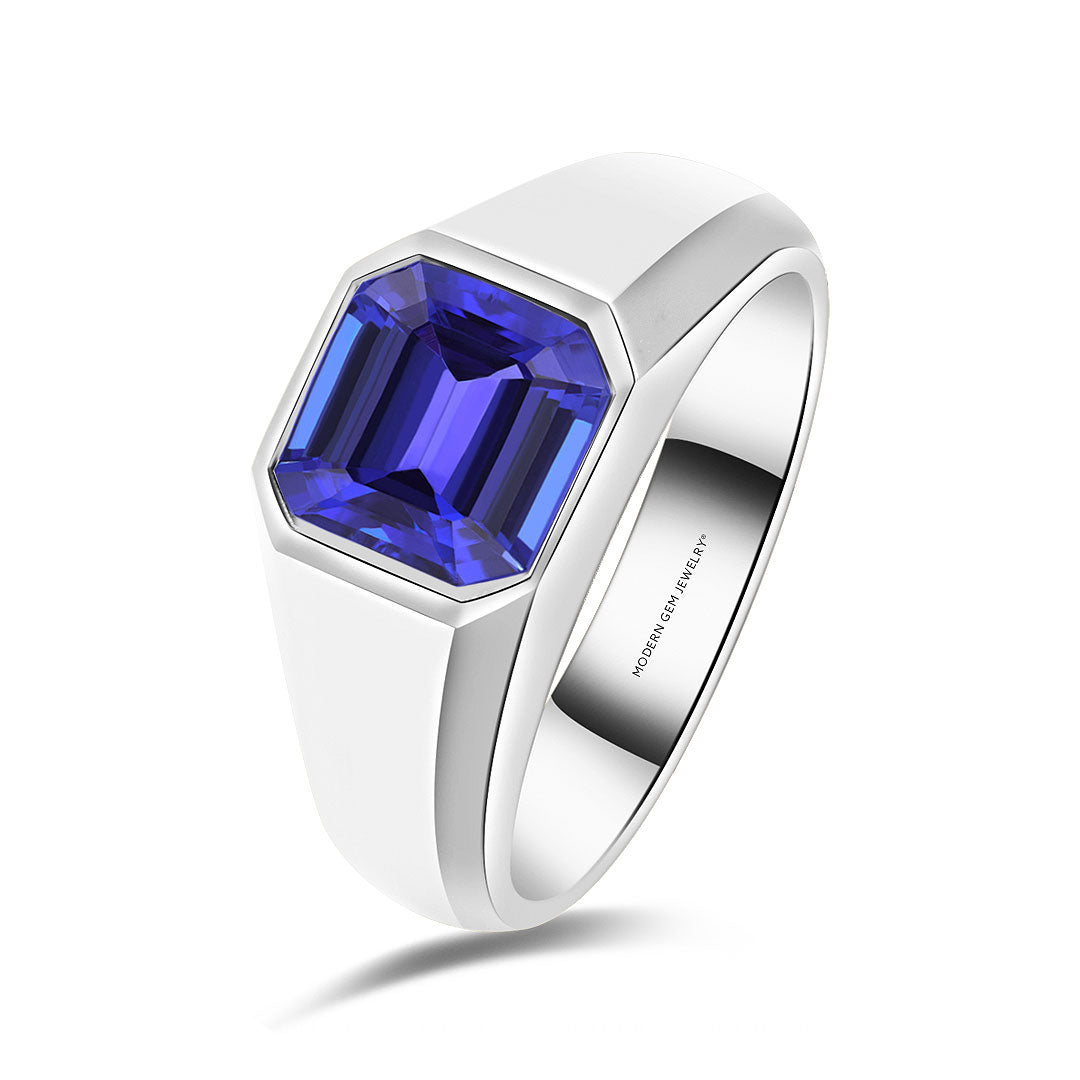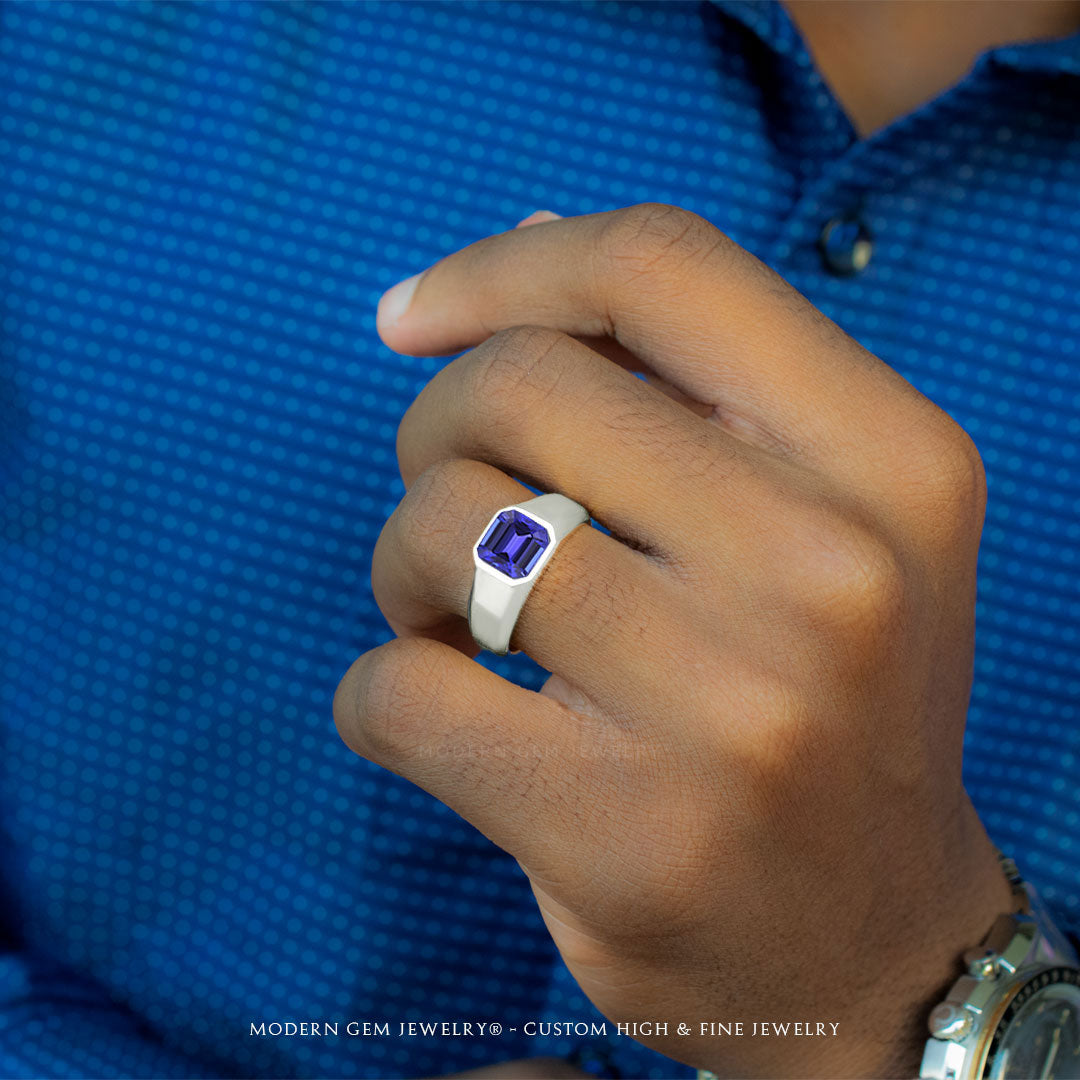 Men's Tanzanite Ring in White Gold Bezel Solitiare
Estimated Shipping Widget will be displayed here! (with custom color)
This handsome and refined natural tanzanite ring has a bold and confident appearance. It showcases a stunning 3-carat natural tanzanite stone, carefully crafted by hand in gleaming 18K White Gold. The exceptional finish of this tanzanite men's ring adds a touch of elegance to your everyday attire.
With a blend of modern style and classic appeal, this ring will surely attract attention. Elevate your wardrobe and show off your sophistication with this exquisite piece of artistry.
MAIN STONE DETAILS
| | |
| --- | --- |
| Main stone type | Natural Tanzanite |
| Main stone color | Bluish-Violet |
| Main stone total weight | 3 carats |
| Main stone shape/cut | Emerald-Cut | Square Shape |
| Item # | GM3480200 |
SECONDARY GEM & METAL DETAILS
| | |
| --- | --- |
| Stone Type | N/A |
| Average color | N/A |
| Approx. total weight | N/A |
| Ring Approximate width | 7mm |
| Metal Type | 18K White Gold |
| Certificate | MGJ |
TANZANITE: THE ENCHANTING BLUE GEMSTONE
Tanzanite has captured hearts with its mesmerizing blue hues for centuries, casting a spell of elegance and sophistication. This remarkable gemstone is believed to symbolize spiritual awakening, transformation, and enlightenment. Its enchanting beauty has inspired numerous names to describe its captivating shades of blue, and its allure can be found in various parts of the world.
The name 'Tanzanite' was derived from the location of its discovery, Tanzania, in East Africa. It was first unearthed in the Merelani Hills near Mount Kilimanjaro in the late 1960s. The story goes that a Maasai tribesman stumbled upon this extraordinary gemstone, and its beauty quickly caught the world's attention.
Since then, Tanzanite has become highly sought after, and its value has soared. It is now considered one of the world's most desirable and precious gemstones. Its rarity and limited source make it even more prized by collectors and jewelry enthusiasts.
Tanzanite comes in a stunning range of blue shades, from a delicate pastel blue to a rich, deep violet blue. The most sought-after and valuable Tanzanites exhibit a vivid, saturated blue color that is often compared to the finest sapphires. The gemstone's allure is further enhanced by its trichroism, displaying different colors when viewed from different angles.
Like Emeralds, Tanzanite also comes in various shapes and cuts, adding versatility to its use in jewelry.
The traditional oval and cushion shapes are trendy, but other creative cuts are also utilized to bring out the gemstone's best features.
Below are a few facts about Tanzanite:
TANZANITE FACTS:
• Mineral: Zoisite
• Color: Blue to Violet-Blue
• Refractive Index: 1.691 to 1.700
• Specific Gravity: 3.35
• Mohs Hardness: 6.5 to 7
BIRTHSTONE & ANNIVERSARIES:
Tanzanite has earned its place as the birthstone for those born in December, adding a touch of glamour to winter celebrations. It is also the gemstone for commemorating 24th wedding anniversaries.
Customize this piece in your preferred gemstone type:
Center Stones Available: Natural Diamond, Ruby, Sapphire, Emerald, Moissanite, Opal, and more.

Center Stone Shapes: Oval, Round, Emerald, Radiant, Cushion, Pear, Princess and more.

Metal Types: 18K Gold, 14K Gold, Platinum PT-950.
Every MODERN GEM JEWELRY® piece is made-to-order. The estimated arrival date is calculated based on the production time of your item; a reference timeline is displayed on the product page or checkout page. An adult's signature is required at delivery time for added security.
*For rushed orders, please get in touch with customer care.
THE PROCESS
Your Bespoke Journey - Crafting Perfection
Your journey with us goes beyond buying jewelry; it's about co-creating an extraordinary piece that reflects your style. Trust us to make this journey exceptional.
Expert Gemstone Selection
Our in-house artisan will present you with the top three gemstone options for your piece. The Choice is Yours.
Personalized Simulations
Receive a detailed simulation of your dream piece and make all the adjustments till it's perfect!
Artisan Craftsmanship
Our experts bring your design to life with the finest techniques. Handcrafting your piece, ensuring it's made to last.
Elegant Packaging
Your piece is carefully packaged for your moments. Insured and shipped to you wherever you are in the world.
LUXURY PACKAGING
Perfect For Every Moment
At Saratti, our dedication extends from your first click to the moment you unwrap your treasure. Handcrafted individually, reasonably priced, and designed for enduring wear.

Every parcel bears our hallmark SARATTI packaging. Our engagement rings are held in a deluxe ring box, enclosed in an exquisite case - the perfect accompaniment for your cherished proposal or momentous occasion. This case also keeps your GIA/IGI diamond and gemstone grading reports safe.

Unmounted gemstones discover their abode within a flawless diamond/gemstone case, guaranteeing their safety and timeless beauty.