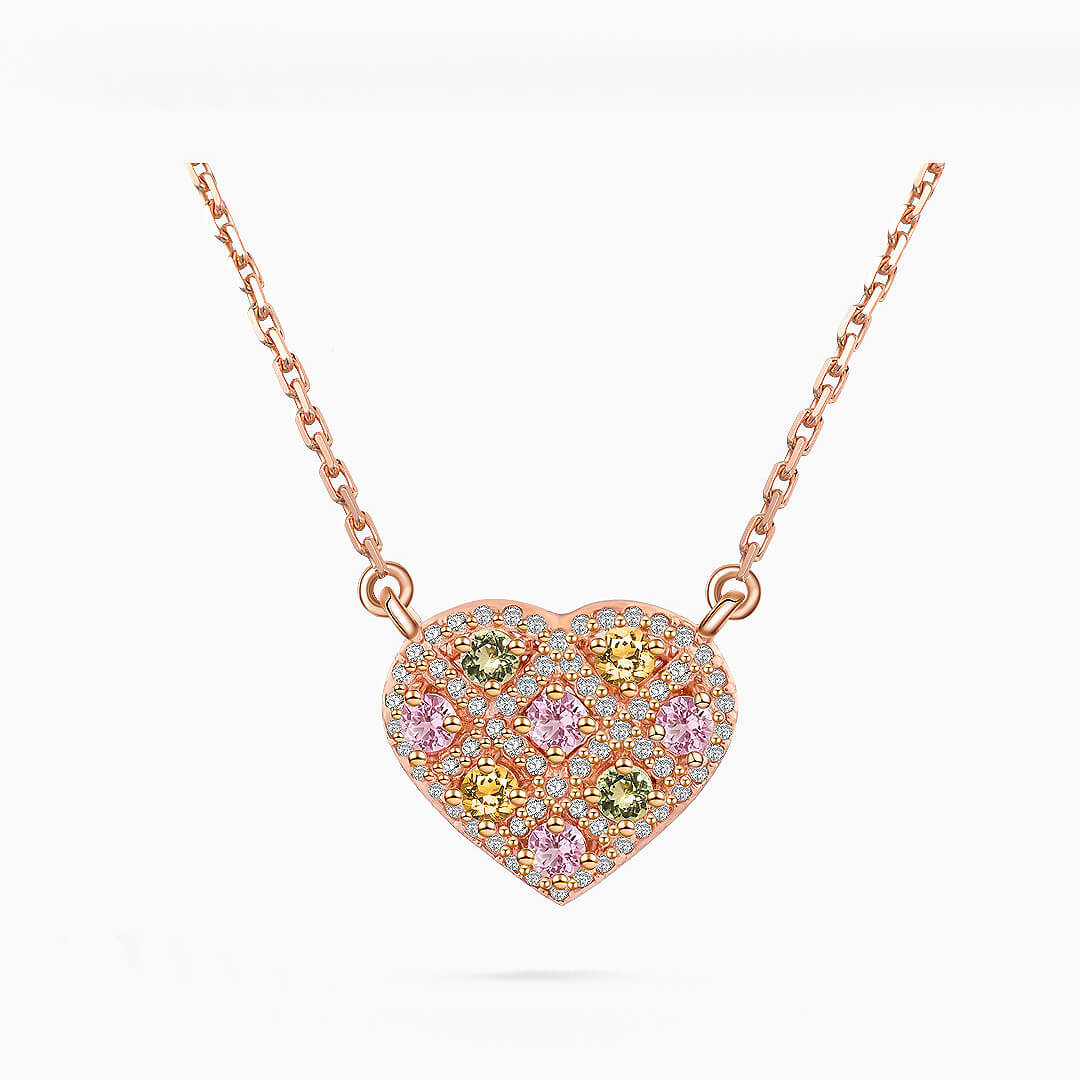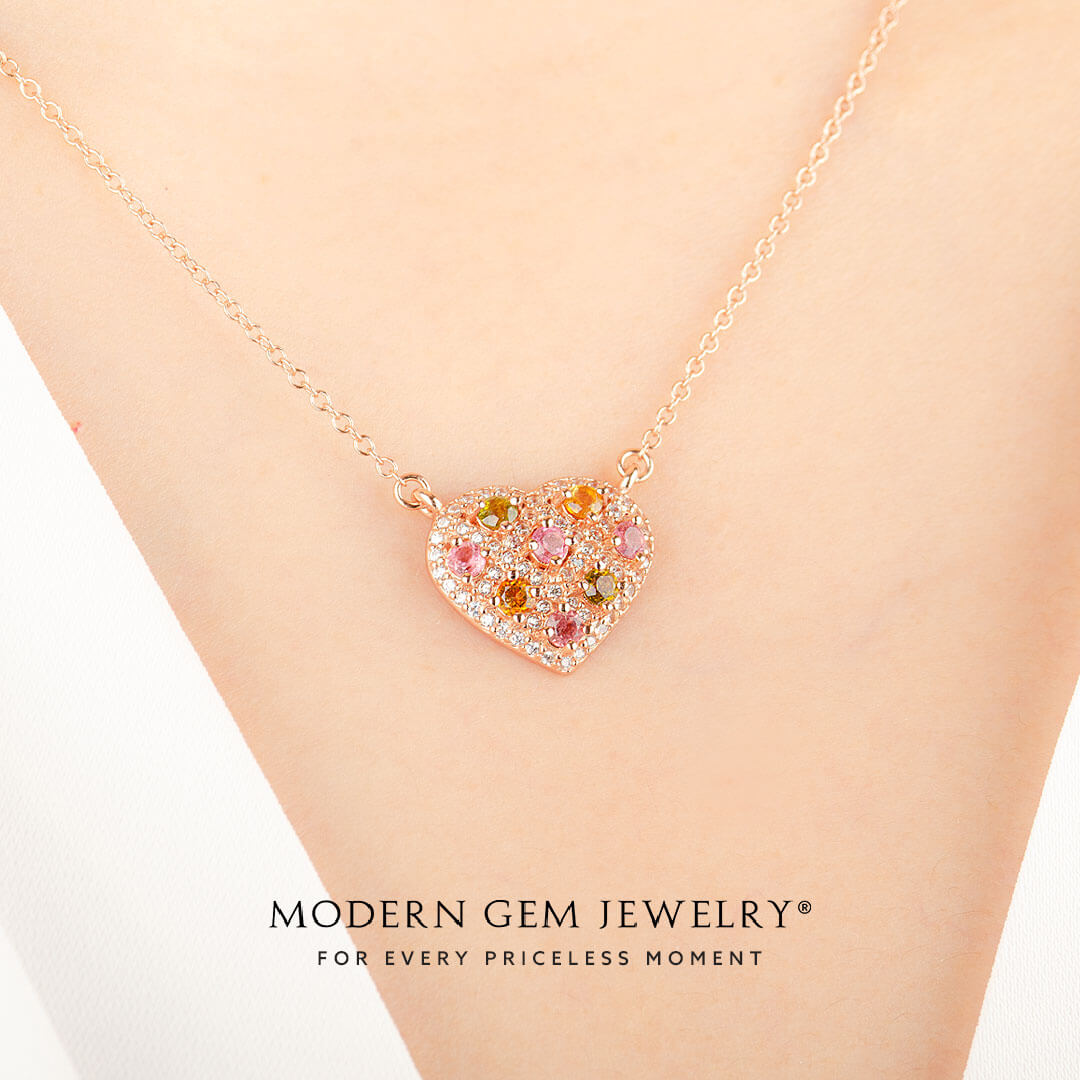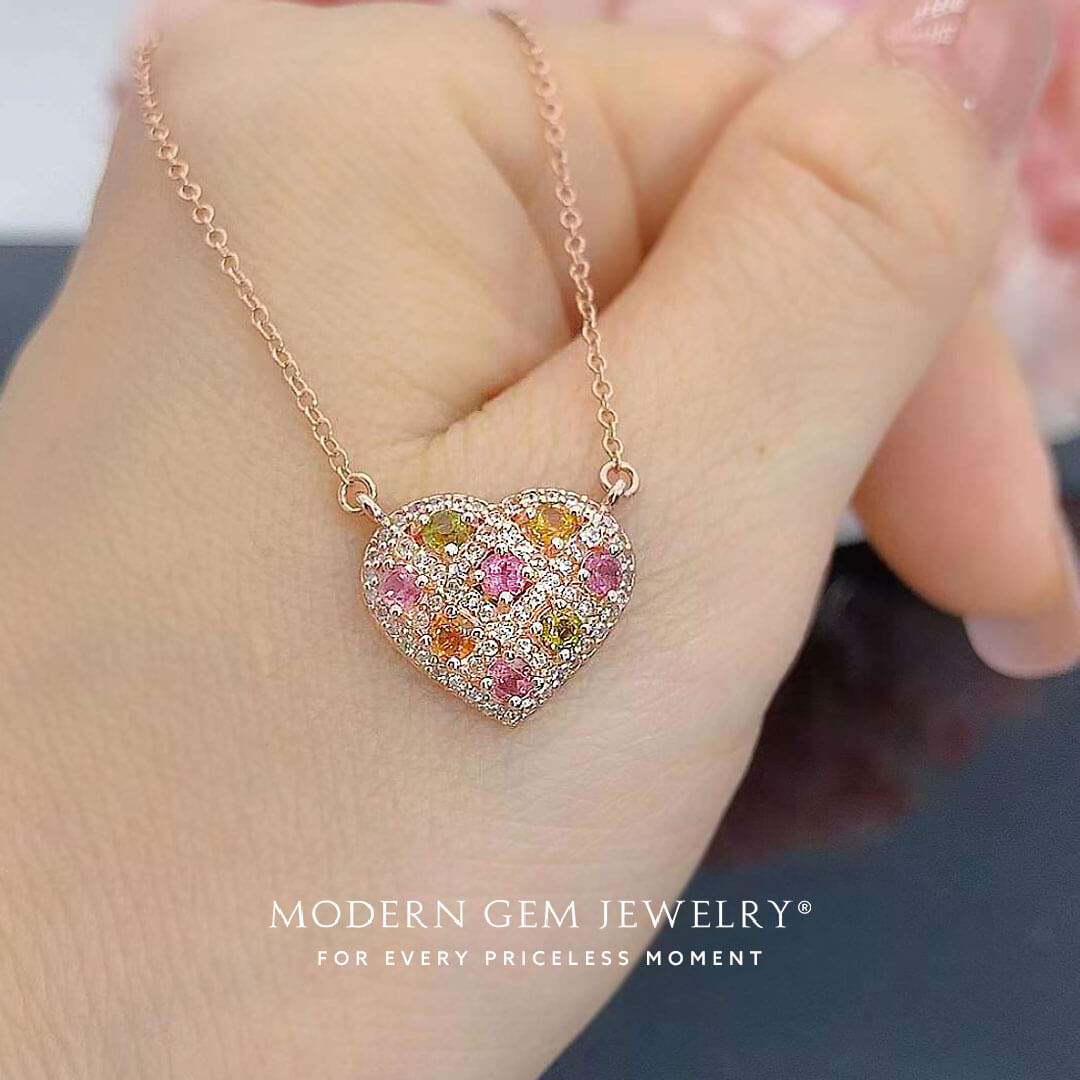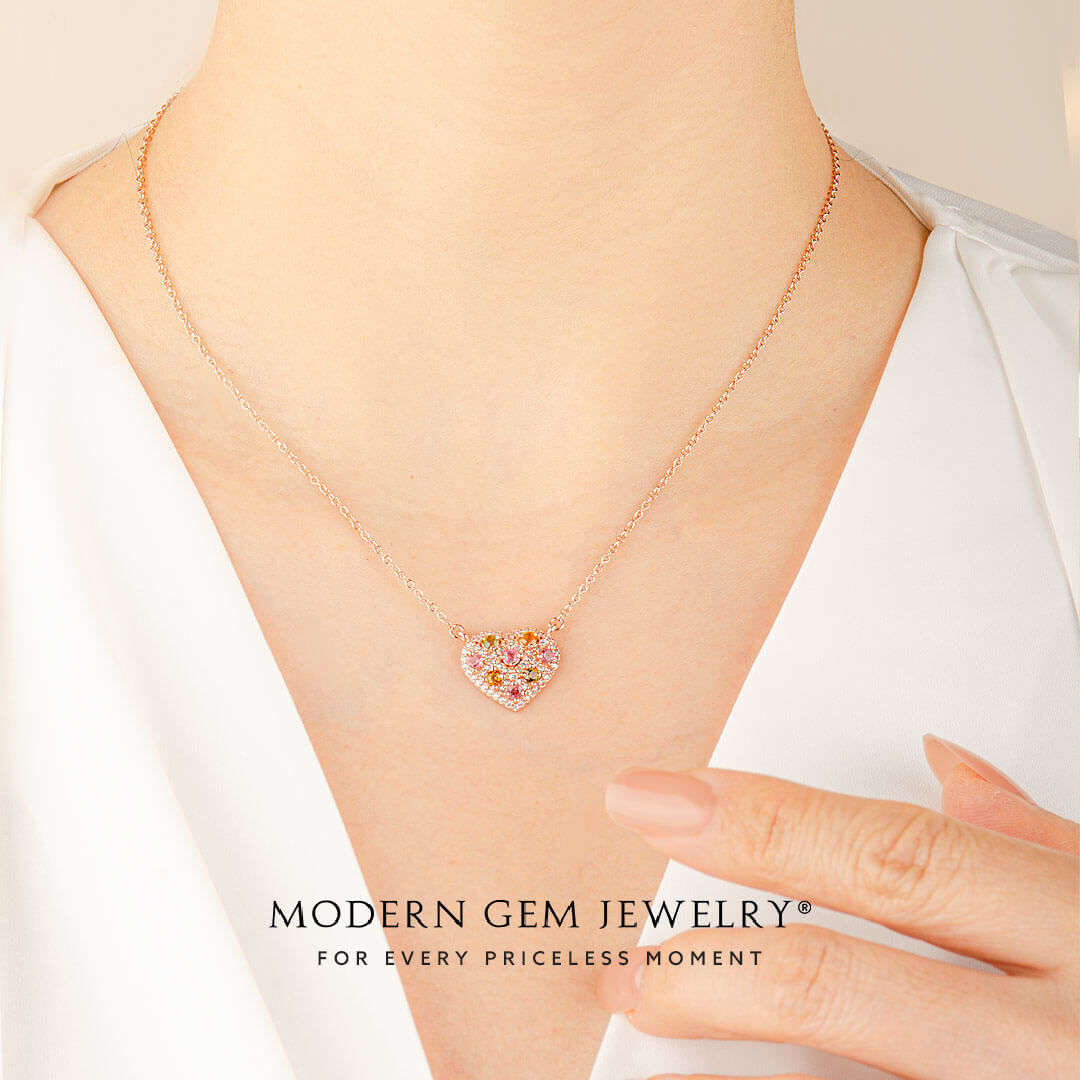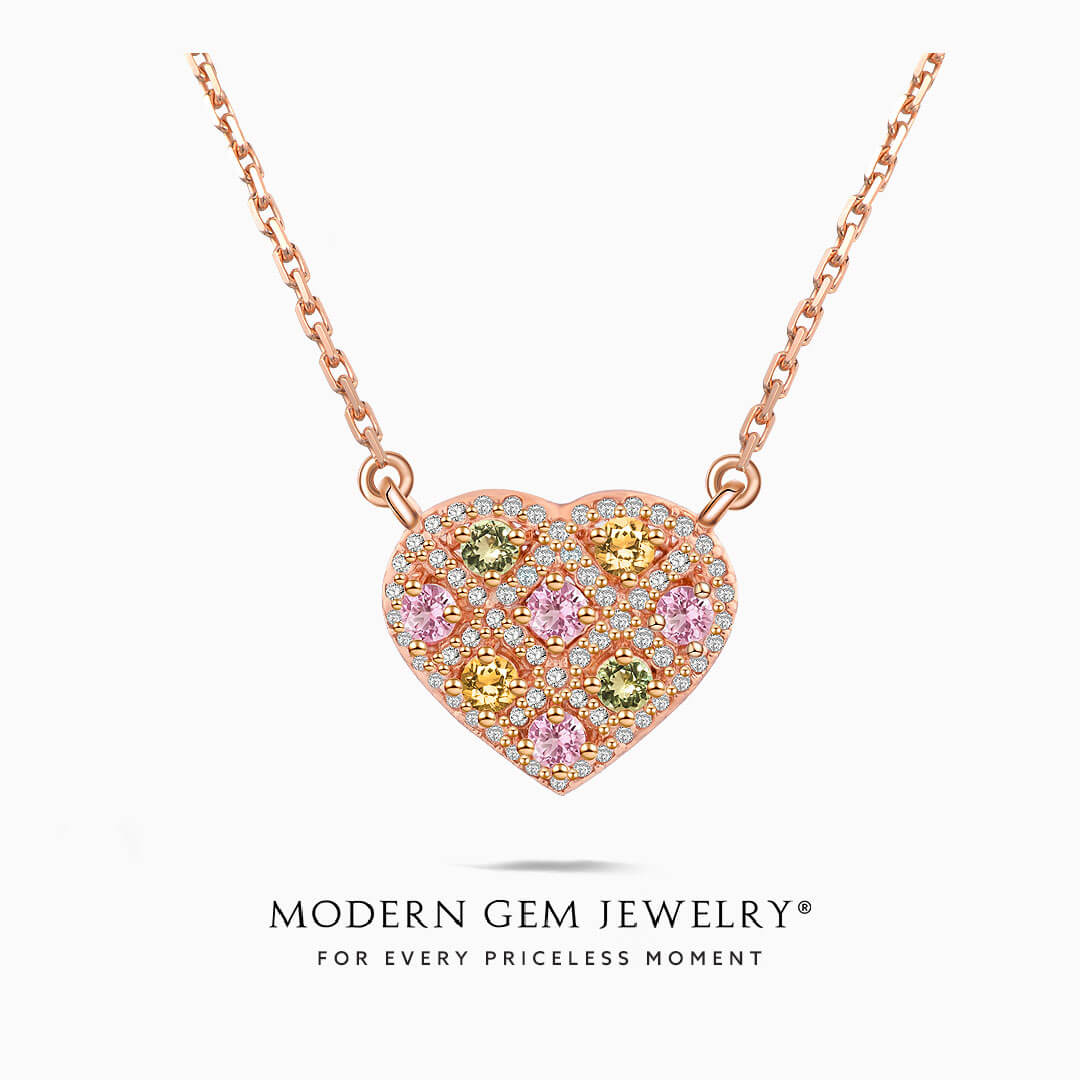 Pink Necklace with Fancy Colored Tourmalines
Estimated Shipping Widget will be displayed here! (with custom color)
Dainty and Romantic Heart Shape 100% Earth-mined Colored Natural Tourmaline Necklace. Designed and handcrafted in 18K Rose Gold. This captivating piece features a gorgeous collection of cherry-picked, colorful selection of natural tourmaline, all displaying impeccable color life and beauty as they dazzle among a collection of bright sparkling natural diamonds. Each stone has an approximate
dimension of 2.5mm. A timeless piece to grace every special moment in life.

CENTER STONE DETAILS
| | |
| --- | --- |
| Type | Natural Tourmaline |
| Color | Pink/Green/Yellow/Blue Green |
| Approx. weight/dimension | 2.5mm/each |
| Center stone shape/cut | Round |
SECONDARY GEM & METAL DETAILS
| | |
| --- | --- |
| Stone Type | Natural Diamonds |
| Average color | G |
| Approx. total weight | 0.20 carats |
| Stones shape | Round |
| Average clarity | SI |
| Metal Type | 18K Rose Gold |
Natural Tourmaline is a splendid semi-precious gemstone popularly known for its vast and diverse colour spectrum. Tourmaline's chemical composition includes a group of mineral species that are closely related, sharing the same crystal structure and the existence of a complex mixture of other elements such as calcium, manganese, and iron are mainly responsible for the colour of Tourmalines.
According to legends and folklore, Tourmaline was believed to have travelled over the rainbow and gathered its beautiful colours along with it. Different cultures have associated the properties of Tourmaline with various beliefs over time. Tourmalines were used in various ceremonies in ancient India to help people gain insight and distinguish between good and evil. It was believed by African civilization to have the ability to alleviate disillusionment and improve mental clarity.
The mineral hardness of tourmaline ranges from 7 to 7.5 on the Mohs scale, making it a good choice for jewellery, including rings for daily wear. Other types of gemstone jewellery, such as earrings, necklaces, and pendants, frequently feature tourmalines.
From pink to black, this gorgeous gemstone is available in a wide range of colours. While some common tourmalines such as schorl are fairly affordable, the rarer colours command a premium.
Since most coloured tourmalines are formed in a liquid-rich environment, these liquids frequently become trapped inside as inclusions during the crystal growth process. In most cases, tourmaline inclusions closely mimic thread-like cavities or long hollow tubes. Eye-visible inclusions are typical in red and pink Tourmalines but are often despised if the colour is intense and appealing. Regardless of the stone's vividness, tourmalines with prominent whitish inclusions are poorly received by dealers and consumers. On the other hand, green tourmalines are usually eye-clean. As a result, the presence of visible inclusions significantly reduces their value. The same is true for tourmalines of other colours: inclusions visible to the naked eye will lower the price significantly.
NATURAL TOURMALINE FACTS:
• Mineral: Silicate
• Colour: From pink to Black
• Refractive Index: 1.616-1.650
• Specific gravity: 2.82-3.90
• Moh hardness: 7 to 7.5
BIRTHSTONE & ANNIVERSARIES:
Natural Tourmalines are the birthstones for October Borns and the perfect gemstone for the 8th Anniversaires.
Customize this piece in your preferred gemstone type
- Center stone availability: Natural Diamond, Ruby, Sapphire, Emerald, Moissanite, Opal and more.
- Center Stone Shapes: Oval, Round, Emerald, Radiant, Cushion, Pear, Princess and more.
- Metal Type: 18K Gold, 14K Gold, Platinum PT-950.
Each and every MODERN GEM JEWELRY® piece is made-to-order. The estimated arrival date is calculated based on production time of your item, a reference time-line is displayed on the product page or checkout page. An adult signature is required at the time of delivery for added security.
*For rushed orders please contact customer care.
THE PROCESS
Your Bespoke Journey - Crafting Perfection
Your journey with us goes beyond buying jewelry; it's about co-creating an extraordinary piece that reflects your style. Trust us to make this journey exceptional.
Expert Gemstone Selection
Our in-house artisan will present you with the top three gemstone options for your piece. The Choice is Yours.
Personalized Simulations
Receive a detailed simulation of your dream piece and make all the adjustments till it's perfect!
Artisan Craftsmanship
Our experts bring your design to life with the finest techniques. Handcrafting your piece, ensuring it's made to last.
Elegant Packaging
Your piece is carefully packaged for your moments. Insured and shipped to you wherever you are in the world.
LUXURY PACKAGING
Perfect For Every Moment
At Saratti, our dedication extends from your first click to the moment you unwrap your treasure. Handcrafted individually, reasonably priced, and designed for enduring wear.

Every parcel bears our hallmark SARATTI packaging. Our engagement rings are held in a deluxe ring box, enclosed in an exquisite case - the perfect accompaniment for your cherished proposal or momentous occasion. This case also keeps your GIA/IGI diamond and gemstone grading reports safe.

Unmounted gemstones discover their abode within a flawless diamond/gemstone case, guaranteeing their safety and timeless beauty.