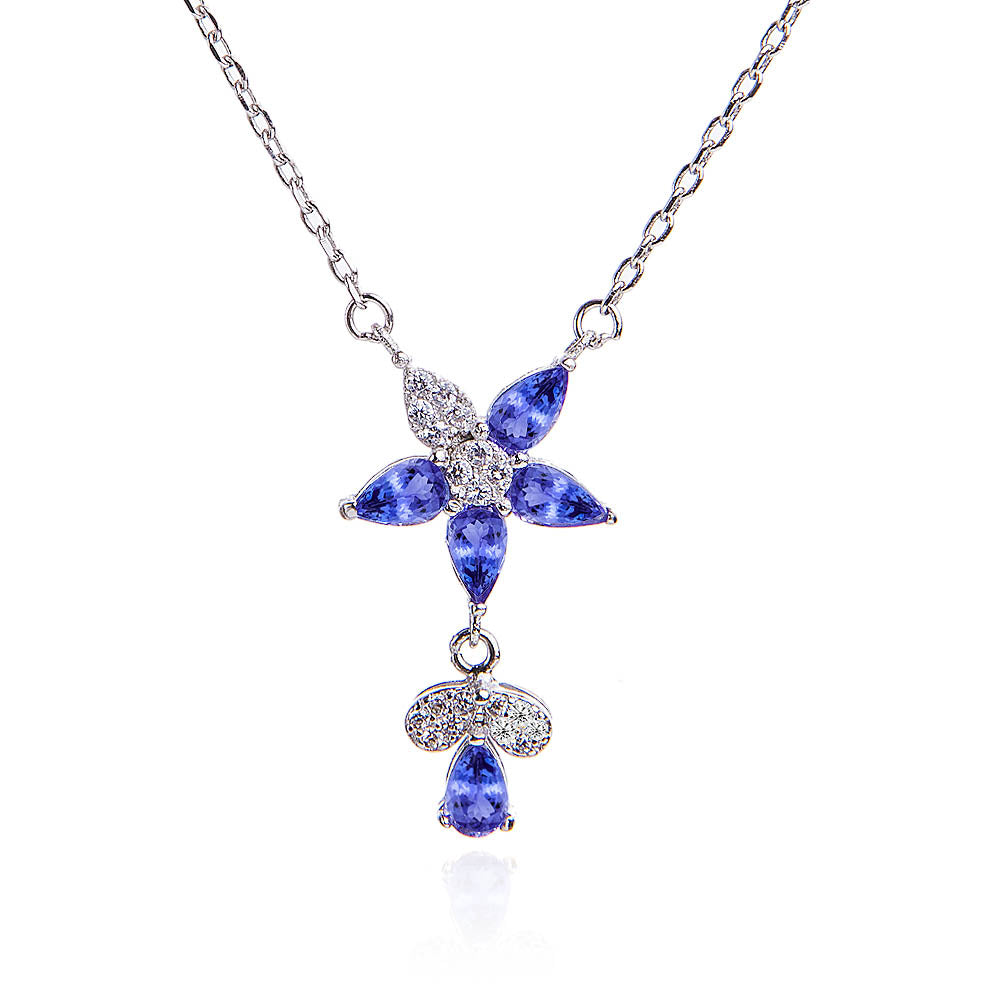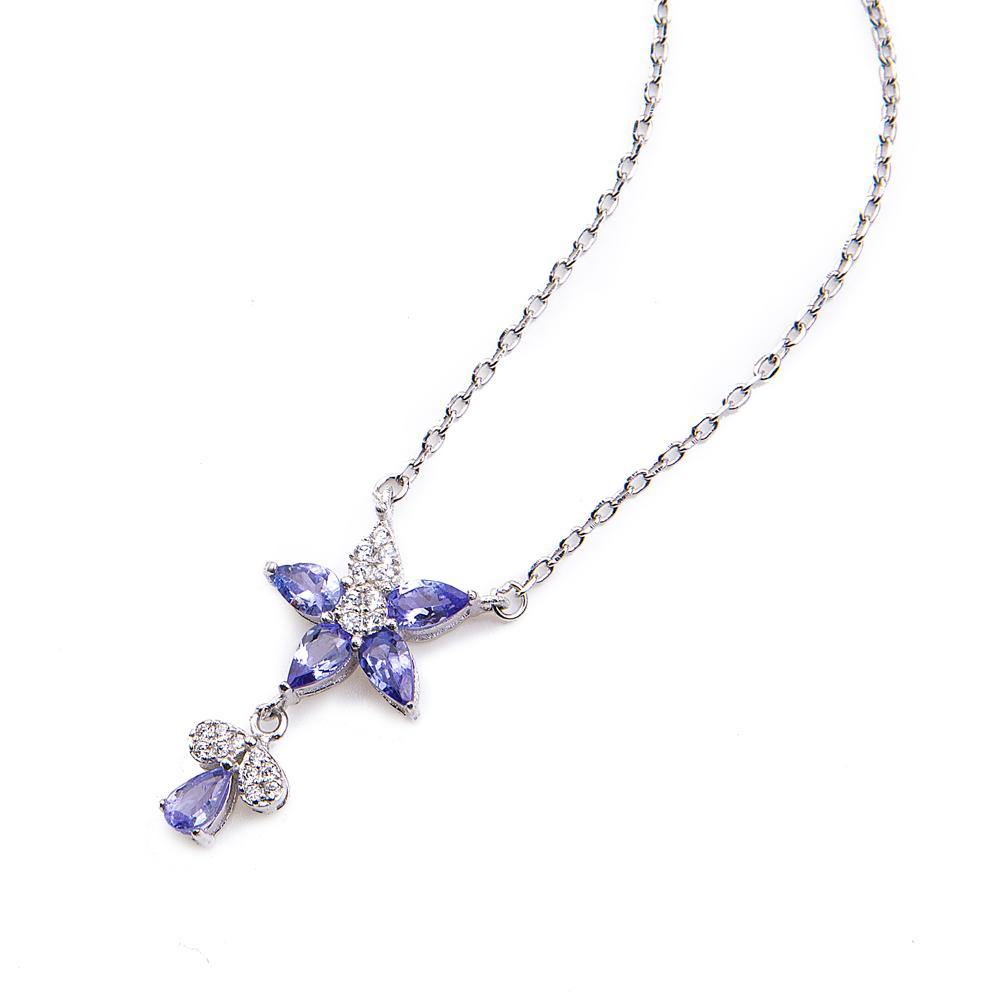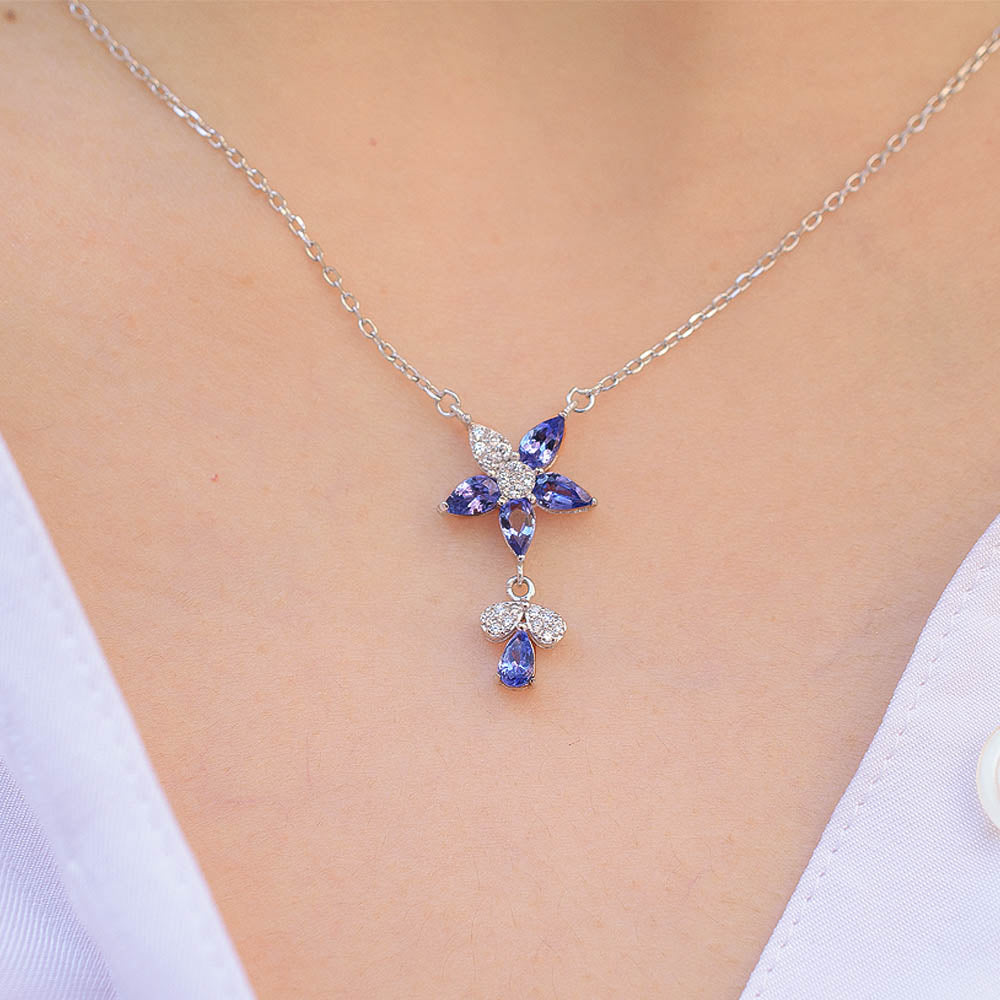 Tanzanite Necklace and Diamonds 18K White Gold
Estimated Shipping Widget will be displayed here! (with custom color)
Adorned with cherry-picked pear-shaped Natural Tanzanites, caressed by sparkling bright colorless natural diamonds, all hand fabricated in gleaming 18K White Gold - this tanzanite necklace with surely complement your or her look. 
| | |
| --- | --- |
| Gemstone type | Natural Tanzanite |
| Gemstone color | Bluish Violet |
| Gemstone average weight(ct) | 1.5 carats |
| Gemstone cut | Pear |
| Gemstone Clarity | VVS |
| Modern Gem Item # | AMN83082 |
SECONDARY GEM & METAL DETAILS
| | |
| --- | --- |
| Side stones type: | Natural Diamonds |
| Average Colour | F |
| Approx total carat weight | 0.10 carat |
| Stones shape / cut | Round |
| Average Clarity | VVS |
| Metal Type | 18K Gold |
| Metal Colour | White |
| Certificate | MGJ |
Tanzanite is one of the most fascinating and well-known bluish gemstones in today's gem industry and belongs to the Zoisite mineral group. Not until 1967 that this unbelievably rare gemstone was found at the foothills of Mount Kilimanjaro in Tanzania. Stories have been told and passed down about how a bolt of lightning once set these foothills (Mount Kilimanjaro) ablaze.
Masai herders discovered this violetish blue crystal among the ashes of the scorched land in the aftermath. Soon, this rare gemstone was given the name Tanzanite, named after the country of its origin - Tanzania. This gem is only found in a deep and small area on the mountain's foothills (roughly seven km² in size), making natural Tanzanite a thousand times rarer than diamonds. The stone's rarity, combined with its aesthetic appeal, has contributed to its ever-growing trend among both jewellery designers and consumers.
Although countless myths surround the Tanzanite's birthplace, the truth behind its actual discovery remains a mystery. However, geologists believe that tanzanites are rarely present anywhere else on the planet. It is said that the events that led to its formation around 585 million years ago were so rare that it is virtually impossible to repeat them. Tanzanite is now considered the second most valuable blue gem after sapphire.
On the Mohs scale, Tanzanite has a score of 6 to 7. Fine Tanzanite jewellery is becoming more popular among consumers despite its low rating on the hardness scale. Tanzanite needs proper precautions to be followed to avoid careless wear or impact. Tanzanite also has perfect cleavages, which indicates the gemstone's predilection for chipping or breaking if struck hard enough. Tanzanite is also more prone to cracking due to its sensitivity to sudden temperature changes. However, the jewellery setting and proper care from the owner can significantly reduce the risk of harm.
When determining the value of this gem, colour is essential. The most valuable Tanzanites are those with a deep saturated colour. Natural Tanzanites with deep blue colours make the top of the list, accompanied by bluish-purple and violet-blue. The value of a tanzanite decrease as the saturation level of the hue reduces.
NATURAL TANZANITE FACTS:
• Mineral: Zoisite
• Colour: From Bluish Violet to Violet Purple
• Refractive Index: 1.691-1.700
• Specific gravity: 3.35
• Moh hardness: 6 to 7
BIRTHSTONE & ANNIVERSARIES:
Natural Tanzanites are the birthstones for December Borns and the perfect gemstone for the 24th Anniversaires.
Customize this piece in your preferred gemstone type
- Center stone availability: Natural Diamond, Ruby, Sapphire, Emerald, Moissanite, Opal and more.
- Center Stone Shapes: Oval, Round, Emerald, Radiant, Cushion, Pear, Princess and more.
- Metal Type: 18K Gold, 14K Gold, Platinum PT-950.
Each and every MODERN GEM JEWELRY® piece is made-to-order. The estimated arrival date is calculated based on production time of your item, a reference time-line is displayed on the product page or checkout page. An adult signature is required at the time of delivery for added security.
*For rushed orders please contact customer care.
THE PROCESS
Your Bespoke Journey - Crafting Perfection
Your journey with us goes beyond buying jewelry; it's about co-creating an extraordinary piece that reflects your style. Trust us to make this journey exceptional.
Expert Gemstone Selection
Our in-house artisan will present you with the top three gemstone options for your piece. The Choice is Yours.
Personalized Simulations
Receive a detailed simulation of your dream piece and make all the adjustments till it's perfect!
Artisan Craftsmanship
Our experts bring your design to life with the finest techniques. Handcrafting your piece, ensuring it's made to last.
Elegant Packaging
Your piece is carefully packaged for your moments. Insured and shipped to you wherever you are in the world.
LUXURY PACKAGING
Perfect For Every Moment
At Saratti, our dedication extends from your first click to the moment you unwrap your treasure. Handcrafted individually, reasonably priced, and designed for enduring wear.

Every parcel bears our hallmark SARATTI packaging. Our engagement rings are held in a deluxe ring box, enclosed in an exquisite case - the perfect accompaniment for your cherished proposal or momentous occasion. This case also keeps your GIA/IGI diamond and gemstone grading reports safe.

Unmounted gemstones discover their abode within a flawless diamond/gemstone case, guaranteeing their safety and timeless beauty.