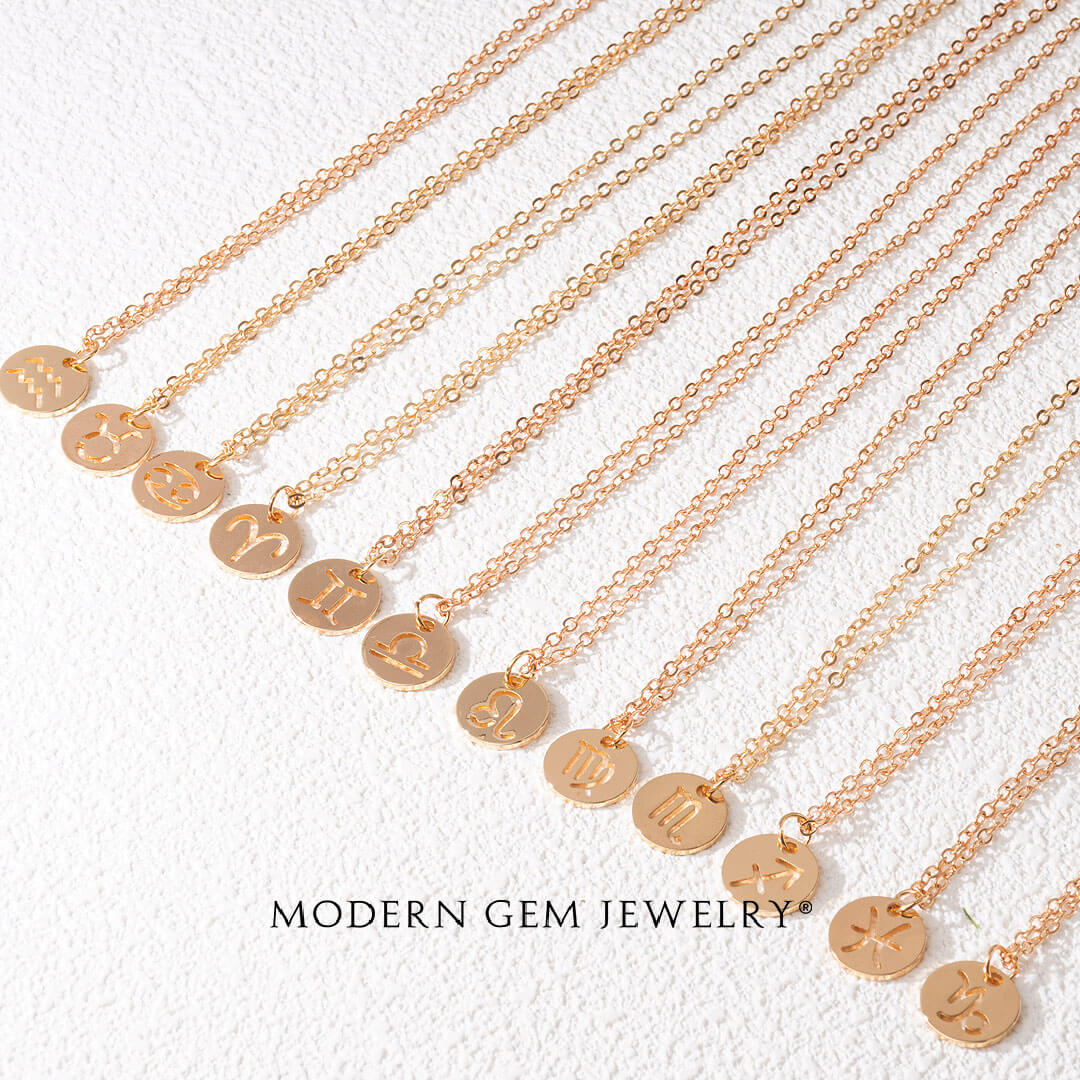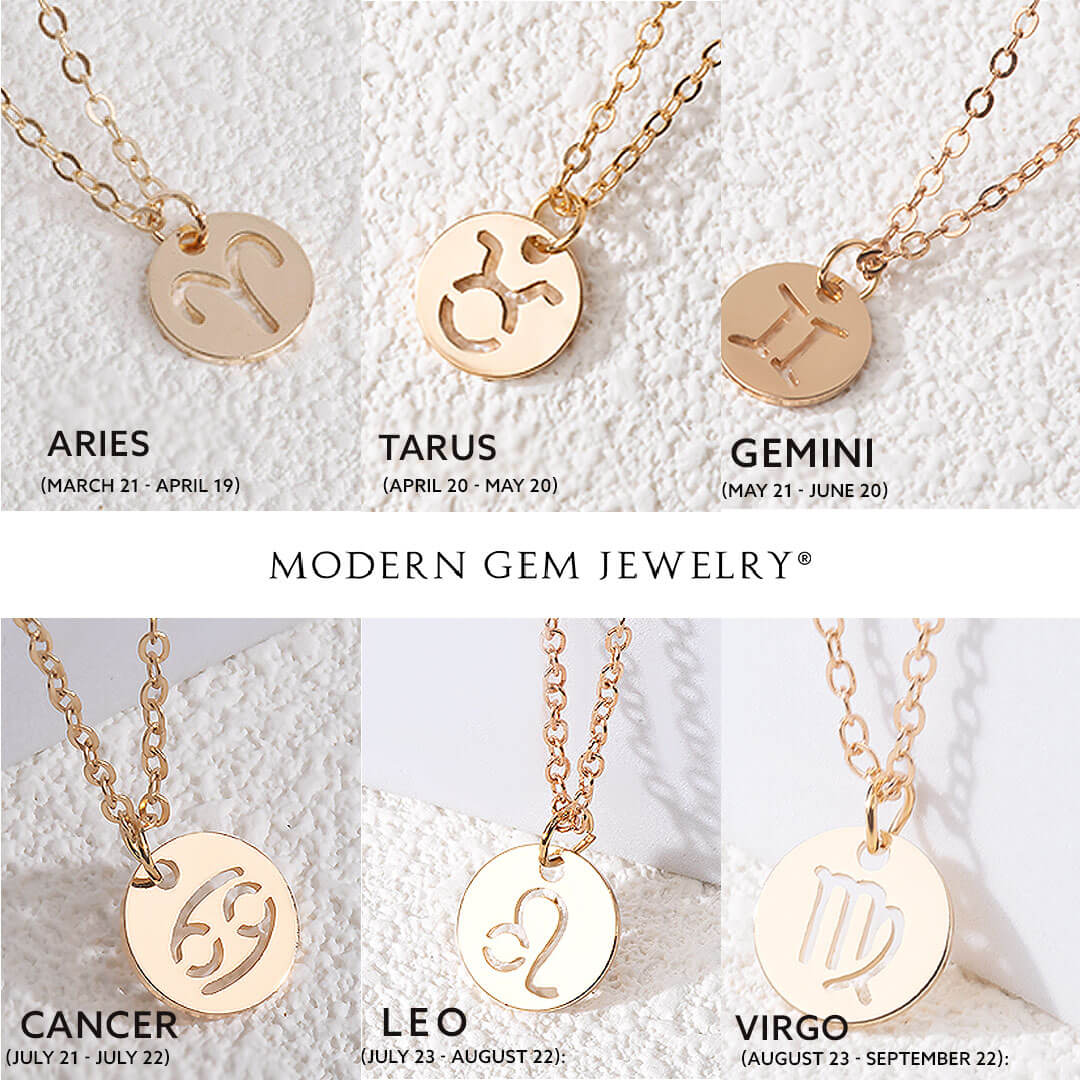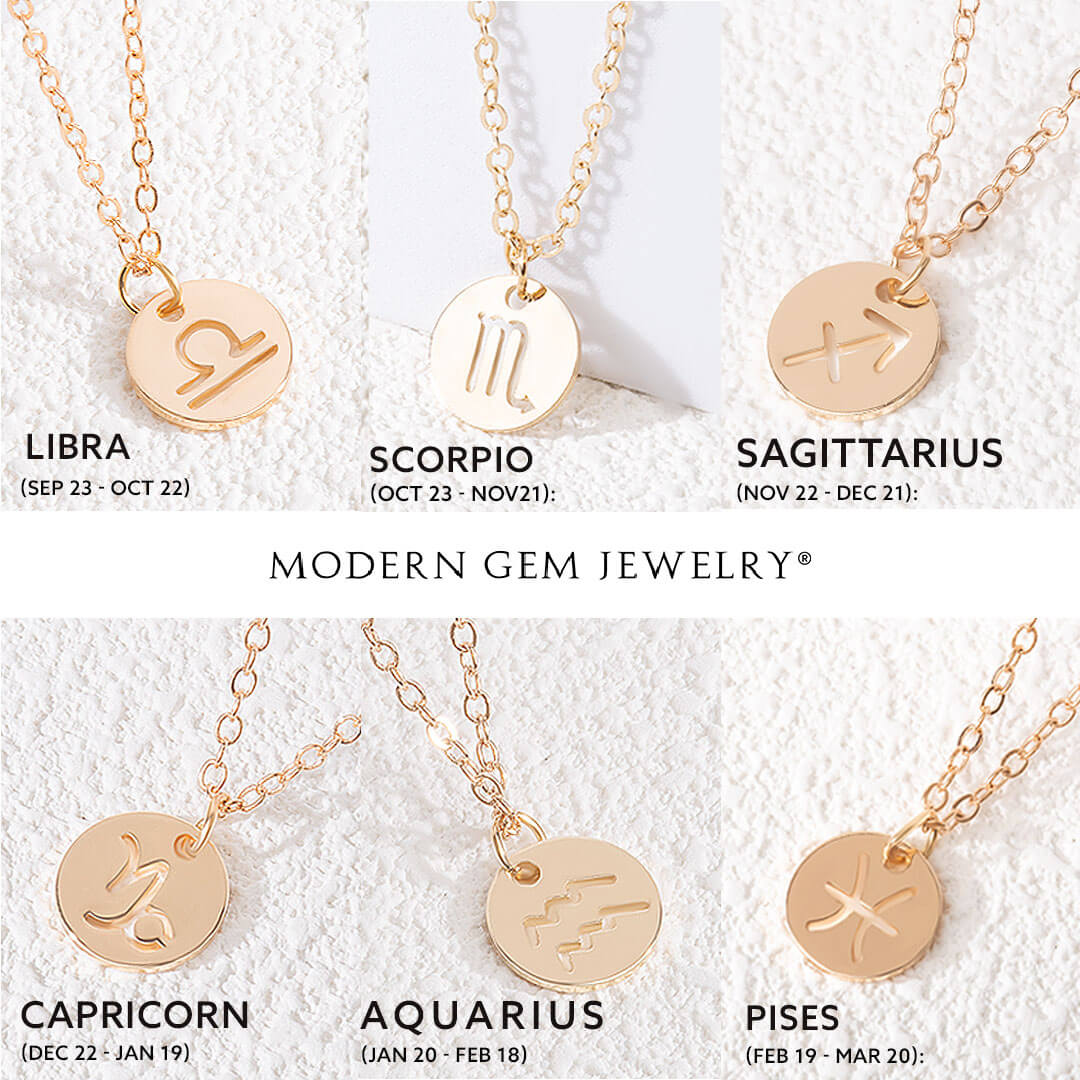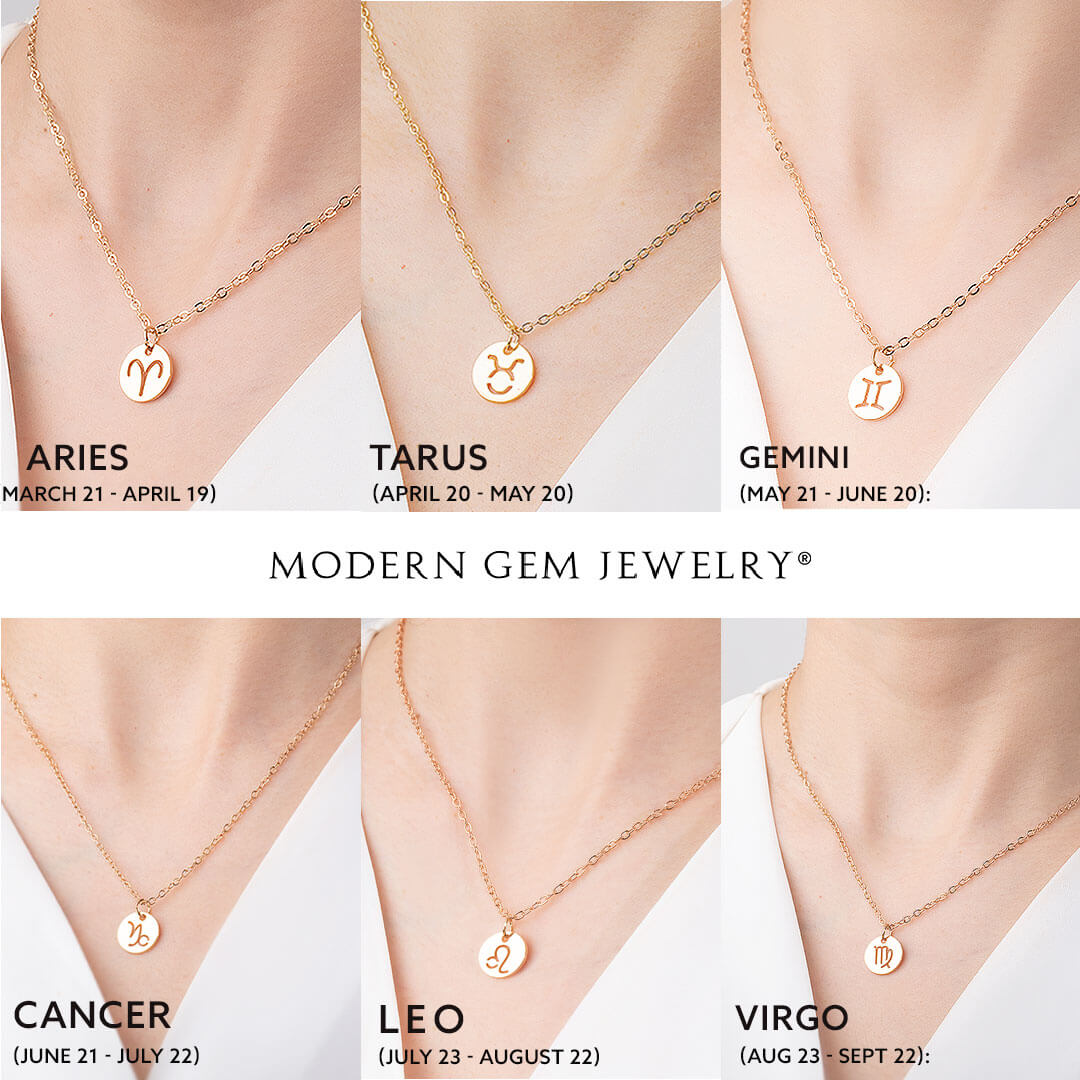 18K Solid Gold Zodiac Necklace Holo Design
Estimated Shipping Widget will be displayed here! (with custom color)
Embrace your astrological sign with our exquisite 18K Gold Zodiac Necklace. This stunning necklace features a beautifully handcrafted zodiac symbol pendant from luxurious 18K Gold. The pendant showcases the unique design of your zodiac sign, capturing its essence and significance. Whether you're an adventurous Aries, a loyal Leo, or a balanced Libra, our zodiac symbol necklace allows you to proudly display your individuality and connection to the stars.

Handcrafted from fine 18K gold, known for its rich color and lasting shine, the pendant hangs delicately from a matching gold chain, adding a touch of elegance and sophistication to your look.


PRODUCT DETAILS
| | |
| --- | --- |
| Pendant Dimension | 12mm |
| Metal Type | 18K Gold |
| Metal Color | Yellow |
| Chain Type | Cable Chain |
| Chain Length | 45cm |
Zodiac Signs - Significance & Meaning



Zodiac signs are believed to influence our personalities, relationships, and life paths. Astrologers believe that the positions of celestial bodies at the time of our birth can shape our characteristics and tendencies. By understanding the traits associated with your zodiac sign, you gain insight into your strengths, weaknesses, and potential areas for personal growth.
Astrology enthusiasts often associate specific traits and personalities with each zodiac sign. These signs provide insights into the unique characteristics of individuals. Let's explore the zodiac signs and their corresponding personalities:
Aries (March 21st - April 19th):
Bold, energetic, and natural leaders.
Taurus (April 20th - May 20th):
Reliable, patient, and appreciative of the finer things in life.
Gemini (May 21st - June 20th):
Versatile, curious, and an excellent communicator.
Cancer (June 21st - July 22nd):
Nurturing, emotional, and intuitive.
Leo (July 23rd - August 22nd):
Confident, charismatic, and natural-born leaders.
Virgo (August 23rd - September 22nd):
Detail-oriented, practical, and analytical.
Libra (September 23rd - October 22nd):
Diplomatic, harmonious, and seeks balance.
Scorpio (October 23rd - November 21st):
Intense, passionate, and fiercely loyal.
Sagittarius (November 22nd - December 21st):
Adventurous, optimistic, and philosophical.
Capricorn (December 22nd - January 19th):
Ambitious, disciplined, and determined.
Aquarius (January 20th - February 18th):
Independent, intellectual, and innovative.
Pisces (February 19th - March 20th):
Compassionate, imaginative, and intuitive.
Exploring the fascinating world of zodiac signs and horoscope jewelry can be an enriching experience. Understanding the basics of zodiac signs and their associated meanings can give you valuable insights into your personality and traits. Incorporating zodiac signs in jewelry further enhances the connection between individuals and their astrological identity. So, whether you're a firm believer in astrology or captivated by its allure, consider adorning yourself with zodiac jewelry and embracing its beauty and symbolism.
THE PROCESS
Your Bespoke Journey - Crafting Perfection
Your journey with us goes beyond buying jewelry; it's about co-creating an extraordinary piece that reflects your style. Trust us to make this journey exceptional.
Expert Gemstone Selection
Our in-house artisan will present you with the top three gemstone options for your piece. The Choice is Yours.
Personalized Simulations
Receive a detailed simulation of your dream piece and make all the adjustments till it's perfect!
Artisan Craftsmanship
Our experts bring your design to life with the finest techniques. Handcrafting your piece, ensuring it's made to last.
Elegant Packaging
Your piece is carefully packaged for your moments. Insured and shipped to you wherever you are in the world.
LUXURY PACKAGING
Perfect For Every Moment
At Saratti, our dedication extends from your first click to the moment you unwrap your treasure. Handcrafted individually, reasonably priced, and designed for enduring wear.

Every parcel bears our hallmark SARATTI packaging. Our engagement rings are held in a deluxe ring box, enclosed in an exquisite case - the perfect accompaniment for your cherished proposal or momentous occasion. This case also keeps your GIA/IGI diamond and gemstone grading reports safe.

Unmounted gemstones discover their abode within a flawless diamond/gemstone case, guaranteeing their safety and timeless beauty.